Robin Leach has tweeted that Britney and Iggy will debut new track at the BBMA.
Vegas insider and notorious whistle-blower Robin Leach has some interesting things to say about a possible "Pretty Girls" performance at next month's Billboard Music Awards.
Robin Leach has sent the Twitter-sphere into a tail spin this evening when he appeared to confirm what many had optimistically inferred from Iggy Azalea's comments last night – Britney and Iggy will perform "Pretty Girls" at the BBMAs on May 17.
Iggy Azalea and Britney Spears will debut their new"Pretty Girls" song live at the Billboard Awards on May 17 @MGMGrand !

— Robin Leach (@Robin_Leach) April 15, 2015
As a Vegas insider, Leach has broken many a story in the past, including numerous Britney related rumors, but he's not always the most accurate source. That being said, he's in a good position to get all the details about the Billboard Awards which are held at the MGM Grand Hotel in Las Vegas every year.
It's also unclear as to what he means by 'debut'. Generally, we'd take that to mean that the song will be heard for the first time at the awards, but Spears has confirmed that "Pretty Girls" will drop on May 5, two weeks prior to the awards. Presumably, therefore, Robin's talking about the song's first live outing, which would seem to back up Azalea's claims that she and Britney will be performing the track live.
In reality, although a promising sign, the tweet could mean everything or nothing, so I'm recommending that we take this one with a pinch of salt. Britney fans should be hopeful though; a BBMA performance would give the track huge exposure and could help "Pretty Girls" make a much more meaningful chart impact than the ruthlessly underrated "Work, *****!" which received no live promotion.
I've said it before and I'll say it again…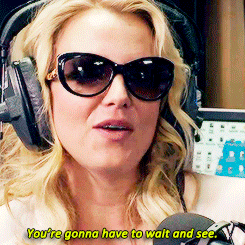 What do you think? True or false?