NYC-based dance company offers Pop Star Dance Fitness classes.
Because we could all brush up on the choreography to "I'm A Slave 4 U"
Even with a horde of dance tutorials on the blogosphere, New York City offers a hidden gem for music lovers, who just wanna shake dat ***, and it's called Banana Skirt Productions. Tucked in between the narrow halls of Manhattan's Pearl Studios, this dance company conducts a string of high energy workouts that incorporate some of the biggest and most badass routines from your favorite pop titans.
On Thursday night (March 26), I decided to rep for BreatheHeavy and attend a class that was all about our beloved Britney Spears' "I'm A Slave 4 U" and brushed up on everything that 2001ney taught us about back bending, hip twisting and, of course, this signature move.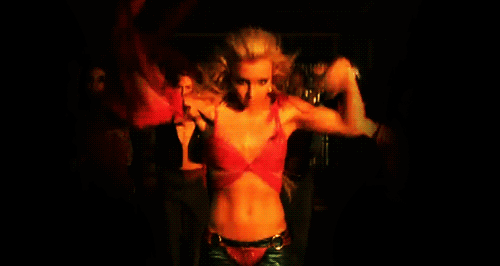 Banana Skirt Productions originally started out as a creative means to shed some post-pregnancy weight and maintain some source of income for founder Akinah Rahmaan. You see, after being laid off from her VP of Marketing role at Island Def Jam last year, the new mom felt like she finally received a nudge from the universe to share her passion for music in a different kind of way. After watching Beyoncé's video for 
"Move Your Body,"
 Rahmaan did what any boss lady would do. She hired an instructor, hosted a few New Jersey-based classes and watched her creation take on a life of its own.
Fast forward eight months later, Banana Skirt Productions now hosts a string of Pop Star Dance Fitness classes, including routines to a catalogue of artists like Yoncé, J. Lo and Chris Breezy. And that's not all: BSP also offers two other kind of classes that might tap into your urban side with Ratchet Zooba and Drop It Low.
I took my knowledge of managing artists, overseeing album release, concerts and listening parties to create these original Banana Skirt offerings as well as selecting amazing instructors, who embody the Banana Skirt aesthetic to help bring them to life."
As for how Akinah curates the monthly calendar, she revealed it usually rotates between all the iconic MTV-ready breakdowns and then some personal favorites, saying, "They may or may not have a video but if I love it, or it's a hit on the radio or in the club, there's a good chance it will end up on our calendar."
Before I continue, let me just say that I love to dance. However, as of lately, I only seem to bust a move 
when I turn up to Rihanna while the whole club ******' wasted
. Nonetheless, I had to see what going to happen when dance instructor/attorney Marissa Montanez channeled her inner Britney for the Thursday night 8:30 pm class. Yup, you read that right. My dance instructor of the evening was a multi-talent, who moved to New York City last year to work as an attorney, but don't let that fool you. She's also one hell of a choreographer.
Class was filled mostly with women and a few straggling men, including myself and my friend Chad, and once things started, there was no denying that we were going to be drenched with sweat. Cue my very own "X Factor" face. We started out with a little warm up, conquering everything from crunches to leg raises and even a few bend and snap hair tosses. I thought I was set. I thought I was ready. I basically thought I was transformed into a wannabe back-up dancer straight out of "Total Britney Live", and it felt amazing. In fact, by the time the pulsating Neptunes-produced beat of the hour filled the dance studio, I knew I wasn't alone in my Britney fandom.
It turns out Marissa also spent her teenage years in front of her TV screen, watching 2001ney flawlessly execute the choreography to "I'm A Slave 4 U" over and over again.
I was 16 in 2001 and lived for Britney Spears. I will never forget her 'Slave' performance at the VMAs and as a young dancer I loved learning choreography from music videos and dancing along."
Almost 50 minutes, a drenched t-shirt and an empty water bottle later, I can confirm that to be 100% true.
Banana Skirt Productions just released their April calendar, including additional Pop Star Dance Fitness classes from Britney, Danity Kane and *NSYNC. Tickets are currently available for purchase.
Do you still remember the choreography to "I'm A Slave 4 U"? Tell us in Exhale!