It's Swifty's world, we just live in it.
Radio 1 Big Weekend has seen some of the world's biggest stars take to the stage, so it's only fitting that pop's current reigning queen, Taylor Swift, is next in line.
Swift confirmed she'll be performing at Earlham Park in May this year.
"Everyone talks about the festivals in England being the best ones you can go to. I feel like I've been missing out – I'm really excited." [British crowds are] "rowdy, insane, in the best way – there seems to be a lot of jumping, which I love".
The announcement comes just as an intriguing saga involving Swift's fans seems to be finally ending in Australia.
Loooong story short, Aussie Taylor fans (the crazy ones) have been hard at work campaigning on Twitter to get Shake It Off onto Australia's iconic Triple J Hot 100 Countdown, a long-running radio tradition that airs throughout Oz's national day of celebration: Australia Day.
The radio station is famous for avoiding pop music in general, selecting only the coolest "cool pass" pop tracks to put to air. You know the ones: Royals, Rolling In The Deep, Hey Ya, Toxic. The station has never once played Swift's 2014 hit, but that did nothing to discourage her massive fanbase.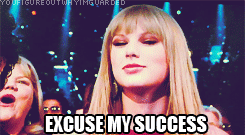 The battle between pop fans and hipster fans waged on for the past few weeks, with the station going so far as to
ban
their DJs from even discussing Swift on air! Regular Triple J listeners also fought back by starting a change.org
petition
to ensure the former country music star would not feature on the countdown. Stan wars are serious business down under, folks!
With the countdown airing just days from now, it appears Swifties have decided to take matters into their own hands by creating their own countdown featuring nothing but Taylor hits. Fair enough!
Don't take it as a sign of defeat though. Social media observers in Australia found the campaign has caused Swift to completely overshadow the usual hype surrounding the countdown.
"In fact, the hypometer showed Swift has received nearly 10 times as many mentions in Hottest 100 posts as all the other artists combined. A website which tracks Twitter traffic, Topsy.com, showed that the hashtag which is behind the Taylor Swift hype, #tay4hottest100, has been posted more than twice as many times as #hottest100."
The sheer power behind this social media saga really just proves the stigma surrounding pop music is kinda pointless. Now the countdown is more famous than ever, perhaps the station will reconsider utilizing the power of pop, as opposed to shunning it?