Looks like a killer music video is on the way…
Meet Catastrophe. #BadBloodMusicVideo pic.twitter.com/q9P7JJoWld

— Taylor Swift (@taylorswift13) May 7, 2015
Is the 'Bad Blood' music video going to be a short film?
She may have just kicked off her world tour, but Taylor Swift is not slowing down on the promo for 1989.
Swift just confirmed the music video for her Katy Perry diss track Bad Blood will impact on the 17th of May – aka during the Billboard Awards, where she is nominated for a whopping 14 awards.
The 25-year-old tweeted a stylized movie poster introducing the character she will play within the video – a dangerous looking femme fatale named Catastrophe. What's the bet that's a cat pun? We know Taylor loves her cats…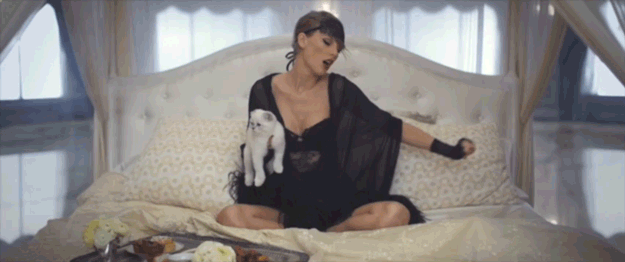 She also uses one of the songs most cutting lyrics – "bandaids don't fix bullet holes" – as a tagline for the "film".
Legendary music video director Joseph Kahn is behind the short film, and, as previously reported, the video will feature a ton of Taylor's famous friends including Zendaya, Kendrick Lamar and Hayley Williams.
Blank Space, the other Joseph Kahn directed Taylor thriller, just recently clocked over 800 million views on youtube (the fastest video to ever do so). Looks like she might be gearing up for Blank Space 2!
The video premieres just days after Swift brings her 1989 Tour to the Rock In Rio stage on May 15.
It's Taylor's world, we just live in it.
What do YOU hope to see in the Bad Blood video?