Plus Simon Cowell weighs in, and Harry Styles reps for Britney.
After a misleading headline had the world believing One Direction were splitting up, 1DHQ is clearing the air.
Official One Direction sources are clearing up the mess The Sun made a few days ago. A headline reading "This Is The End" on Tuesday had the world mistakenly believing the best-selling band were calling it off – when really, the article itself stated 1D were simply taking their first ever vacay after a relentless five years on the road.
It was a smart move after losing a member due to their rigorous schedule and intended to establish them as a normal act who takes normal breaks, like any other act does between albums, rather than a ruthless money-making machine.
The Mirror have scored the only official statement so far from 1Ds reps about the band's future. Those thirsting for Solo Styles might just have to make do with Zolo Zayn instead:
"No discussions about solo deals are happening with any members of One Direction currently. Sony are fully committed to all of One Direction and are looking forward to the release of the group's new album."
The band themselves still seem committed to remaining a unit, too, with Louis Tomlinson last night changing his famous 1/5 Twitter bio to reflect the band's current lineup more accurately:
Wouldn't be much point updating if you were only planning on sticking around for another 7 months, right?
Since no 1D drama would be complete without some mixed messages, Simon Cowell weighed in on the new developments, speaking to press at the X Factor season premiere:
"I've known for months that they wanted to take a break. They haven't announced an official break-up because I don't think they're quite sure what they want to do yet, other than have some time off. After five years – I know what their schedule was like – it was gruelling. They would have burned themselves out. We've never been in a situation where we say, 'We think you should do this' or 'We think you should do that'. I would say, 'Tell me what you want to do and we'll support you either way'."
Yes, it's definitely music industry standard for a record label mogul to entrust 5 then teenagers with making decisions for a billion dollar brand by themselves…
"Even though they were young that was a grueling schedule and after a while I could see they were exhausted so when they asked how I felt about it I said for them to do whatever they want. Having a year off is going to be a healthy thing. I hope they'll come back together afterwards but there's not going to be any pressure from me. They're nice guys, they're loyal and they'll be fine."
It's no secret Cowell rules with an iron fist and the idea that the boys have had anywhere near the amount of personal or professional freedom being implied here directly contrasts with how drastically Zayn has changed since wriggling his way out from under the label's control. Considering Cowell's vague statements, and 1D reps now preferring to chat to The Mirror over The Sun, perhaps Simon isn't as close to the band as he used to be?
Cowell also "let slip" that Louis will make some sort of appearance on the current season of UK X Factor, too. Let's hope he's spilling some scalding hot tea on the judges panel.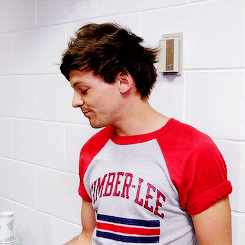 In other news, Harry Styles has impeccable taste in music:
1D is currently completing the North American leg of their On The Road Again Tour and will perform live at the Apple Music Festival in September.