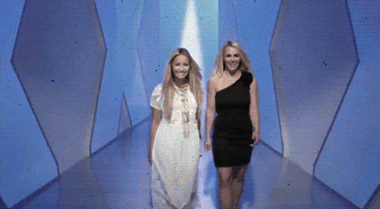 So
WHAT
if the biggest star of the world finds bras annoying and would rather be a free bird. She'll rock it and take the $15 million while she's at it, but big boss Simon Cowell isn't as cool with it, according to
new reports
.
"It was made clear she is expected to be impeccably dressed and made-up for the show," a source told The New York Post.
Britney was advised to improve her hair, make-up and wardrobe choices after she arrived at the filming of an episode wearing an outfit that revealed she had gone bra-less.
Simon asked her to "smarten up" when it comes to her looks.

"And none of those ragged hair extensions."
X Factor reps denied the rumors Simon ordered Britney to sack her stylist. Duh, cause Britney's looked flawless every taping.