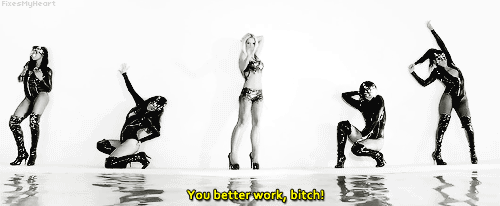 The "Work *****" music video is being traded around hours before it's official premiere, and here's the word on the street from someone who's seen it:
-The ********** scene. That is all. You will all die.
– You haven't seen all of the outfits yet.
– The indoor dance scene is just l;ejtgls tjhlntirgl/tjhs/ltr
– The pool shots are kind of like…pointless. Still hot.
– I have seen a low quality version, but I can make out plenty.
– It was hard to see the desert dance scene, but it looks good.
– The mannequins scene is going to be the most gif'd thing about this video. Seriously, people are going to put like EVERYONE in place of them lol.
– There is a one surprise in the video I don't want to spoil…but this video is the best we've gotten in years. Better than anything, in my honest opinion, since the In the Zone era. Hold It Against Me is the only thing that could even come close but I am very, very excited about this and what it could potentially do for the single's longevity.
– There will be a director's cut!!!
– Dancing is the best post-breakdown. I am not exaggerating.
"Work *****" premieres tonight!