Rihanna is pleased with the fan reaction of the "***** Better Have My Money" music video.
Rihanna threw a top secret celebration for the "***** Better Have My Money" music video release.
We speculated Rihanna's not-so-secret TIDAL event held in Santa Monica, CA on Wednesday would be her album listening party, but turns out it was the viewing party for her newly released "***** Better Have My money" music video (let's assume her record is never debuting).
Fans gathered at the N. Compass building on Santa Monica Blvd. at 7 PM yesterday (July 1) to mingle when they're informed a bus will shuttle them to a new location where Queen Riri awaits. According to Billboard, Rihanna didn't appear for another several hours, finally dropping in around 10:30 PM to a screaming group of 80 TIDAL subscribers, several reporters and a handful of photographers (cell phones weren't permitted).

"Hello, hello, hello, hello" Rihanna said upon walking in. "Thank you for allowing me and Tidal to kidnap you and bring you here to see an exclusive premiere of my new video, '***** Better Have My Money…' It took four days and nights to shoot this and they [Megaforce] held me down," Rihanna said of the duo who flew in from Paris for the premiere. She then asked if fans liked the video, replying to their cheers: "That makes it well worth it."
Moments later, a "popping sound" echoes the room and a swarm of one-dollar bills fall from the ceiling, causing a scramble amongst event-goers.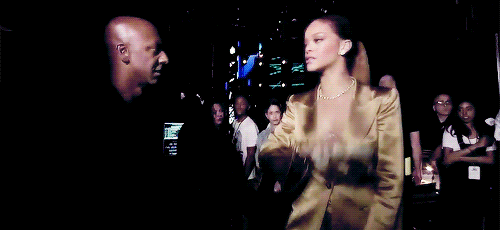 And just like that, Rihanna made a swift exit to a crowd shocked by the music video they witnessed. Some were in complete awe, others wondered where she's going with her latest record. "You have 'Four Five Seconds' and now this song/video," one fan said. "I can't figure out what to expect."
Neither can we, TIDAL subscriber. Neither can we.

Thoughts? Let us know in Exhale!