Recent actions from Taylor Swift and a host of other female artists suggests female pop stars might be breaking new ground behind the scenes. Let's take a closer look, shall we?
About a week ago, media outlets noticed that in October 2014, shortly before her 1989 album dropped, Ms. Swift took out a host of copyright notices for terms and phrases soon to be associated with lyrics featured on her album.

"Party Like It's 1989" and "This Sick Beat" were just two in a handful of TayTay related phrases that now cannot be used on unofficial Swift merchandise – or anything else, really – without permission from the 25-year-old pop star herself.
While media sources have expressed bewilderment in regards to the tactic, isn't this what a highly profitable, successful businesswoman should be doing? Swift's body of work is her entire life's legacy; and copycats are everywhere. Ensuring she retains as much control as possible makes the move pretty understandable. Swift herself elaborated on her recent power plays in an essay for The Wall Street Journal.
Swift has, in the last year or so, carefully shifted her image away from the "bitchy prom queen" singing about jealous ex-girlfriends of her famous lovers, to the "cool, confident queen bee" who prefers the company of equally famous, powerful women – a change she says came about from realizing she was a feminist all along.
"Becoming friends with Lena [Dunham, the creator and star of HBO's "Girls"] — without her preaching to me, but just seeing why she believes what she believes, why she says what she says, why she stands for what she stands for — has made me [realize] that I've been taking a feminist stance without actually saying so."
She told TIME Magazine she's completely aware of how female artists in the industry are viewed:
And we all know it's a feminist issue. My friend Ed [Sheeran], no one questions whether he writes everything. In the beginning, I liked to think that we were all on the same playing field. And then it became pretty obvious to me that when you have people sort of questioning the validity of a female songwriter, or making it seem like it's somehow unacceptable to write songs about your real emotions—that it somehow makes you irrational and overemotional—seeing that over the years changed my view. It's a little discouraging that females have to work so much harder to prove that they do their own things. I see Nicki Minaj and Iggy Azalea having to prove that they write their own raps or their own lyrics, and it makes me sad, because they shouldn't have to justify it.
With a number of celebrities openly promoting their continuing or newfound feminism in 2014, the sudden increase in publicized business strategies being made by women who often dodge rumors of strict behind-the-scenes control, would indicate that the social movement is doing its job by empowering and elevating women to a status usually assumed to be for men. After all, who hasn't had some hater call their female fave an "industry-controlled puppet" at some point during a heated stan war? Is this just a cheap and nasty way to undermine the fact that these women are at the center of multi-million dollar empires?
Taylor's not the first female pop artist to put her foot down recently, either.
While the media had fun examining Beyonce's latest micro-managing of her brand, this time regarding how her name is spelt, it's worth noting she's the only pop star right now who completely manages her entire career, is the founder and president of her own record label, Parkwood Entertainment, and even…owns a temperature controlled storage facility, featuring hundreds of videos and photographs from throughout her life.
Okay, so that last one might be taking the concept of "like a boss" a bit too far, but she should be given her props, too, for walking the walk as much as she talks the 'independent woman' talk, right?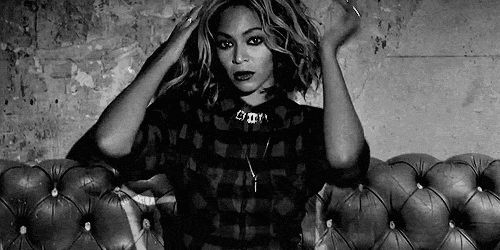 Our own Queen B, Britney Spears, also opened up last year about flexing her businesswoman brawn, revealing she'd been working years to create a lingerie line promoting "self love" for women, and talking to Variety about how she handles the financial intricacies of being a millionaire.
"It's important to learn to say no. With tours and all of that stuff, there are so many aspects that go into it, it's easy to have so many people around you saying, 'oh yes, yes, you can afford this, you can afford this,' and then all of the sudden you've spent $20 million on your stage and you're like, 'where's my money?' You have to make sure that you're on top of things and know where the money's going."
For someone who cannot even appear in public without people speculating how "free" she really is, the article was a firm, but polite, reminder that one of Britney Spears' greatest talents has always been making dedication, perseverance and hard work look like a stroll in the park.
Finally, not to be overshadowed by music industry veterans, newcomer Tinashe had her breakthrough moment last year with minimalist club scorcher 2 On. However, her big break wasn't your typical one. The 21-year-old didn't have the typical PR team behind her in the beginning, nor did she have a label beating audiences over the head with constant radio play or promotion. The R&B singer actually did most of the establishing all on her own.
Starting by releasing a string of mixtapes online, and building up a significant fanbase as a result, Tinashe ended up retaining a significant amount of creative control when she eventually got signed and started putting together her debut album, Aquarius.
The singer/actress spoke about contributing to the creative process in an interview with Jay Z's Life+Times:
I'd been so hands-on during the process, from the videos to the cover art to the music to the beats, literally everything, every step of the way, so to now have other people involved it was definitely hard for me to compromise because I still really want everything to be my way [laughs]. But it's important that, as an artist, you keep your artistic integrity, so sometimes I feel like it's worth it to be a little bit difficult. But, at first, working with other artists and producers in the studio was hard because maybe they weren't so familiar with my sound or what I was going for and maybe they had a different take on what it should be and then the songs didn't necessarily sound true to me. So, after getting a little bit more comfortable with the people, it got a lot better.
She was quick to pick up on unfair "industry puppet" stereotypes, too:
And I think there's also a double-standard that I'm young and I'm a girl and I'm cute, so people are like, 'Oh, it doesn't matter what she thinks; she's just the cute girl that dances and she's just 'the face"—which is really not the case with me. I'm definitely the creative force behind everything that I put out.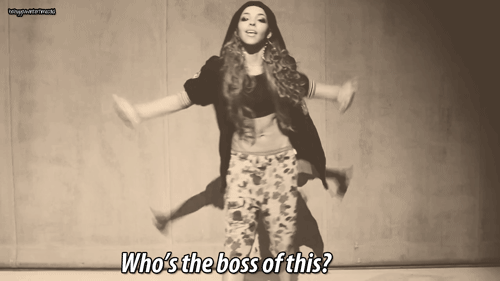 We've seen plenty of trends come and go via the entertainment industry over the years, but this is definitely one we'd like to see become a staple of the mainstream pop music scene. Go girls!