An incredible feat, but we feel a bit underwhelmed.
Janet Jackson wakes up the Hot 100 with "No Sleeep," but we remain underwhelmed.
Congrats are in order for Miss Jackson (so nasty), who lands her 40th Billboard Hot 100 this week with "No Sleeep" at No. 67. Half of the song's points belong to sales, moving 38,000 units for its No. 35 position on the Digital Songs chart. No flop by any means, but after a very extended leave from music, Janet's return failed to make a rippling impact.
We are prepared for the inevitable backlash for our sentiment: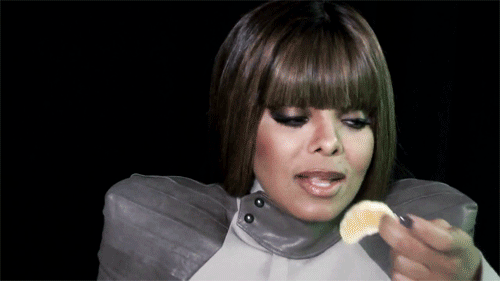 Previous to "No Sleeep," "Feedback," off her 2008 record
Discipline
, tapped out at No. 19. Regardless, the single proved a formidable hit amongst her core fanbase. Not long after, Janet embraced a life of secret globetrotting with husband and billionaire Wissam Al Mana; a welcome change from the fast-pace fury that comes with fame in music. Her lengthy absence did not go unnoticed.
@flytetymejam @MyVelvetRope LOL. Too funny, too sweet.

— Janet Jackson (@JanetJackson) April 18, 2015
Cut to spring 2015, rumors spread like wildfire Jackson would return before eventually confirming the news herself
through a video message:
"This year, new music, new world tour, a new movement."
Since then, Jackson announced dates for her North American tour and released her lead single, "No Sleeep," a throwback mid-tempo ditty reminiscent of nothing familiar on the radio. A handful of Tweets, a short-winded speech and a comeback performance tribute performances from Tinashe, Jason Derulo and Ciara at the BET Awards, and here we are; applauding the legendary Janet Jackson who achieved a Hot 100 milestone. But are we terrible for wanting, no, expecting more?
Jackson peaked when the music industry wasn't plagued by the digital age. Music streaming services didn't exist, YouTube views were never part of a tallying formula and exposure through social media was a concept for the Jetsons. She's old school, and it appears her recent "No Sleeep" promotional schedule hit the snooze button. Janet reminds us of Britney Spears, who famously claims she has nothing to prove anymore and performs because she wants to without enduring the nervous pressures of tireless promotion. Both women have seen the world through the eyes of that coveted number one spot, and both don't fuel the fire one needs to reclaim it in the volatile culture that is music in 2015. After a lifetime in the biz, it's understandable to forfeit the urgency for number ones and illusory relevance, but if Jackson is not out to make waves to the point of exhaustion, to the point of making new impact, to the point of no sleeep, why return?
Perhaps because it's all she's ever known.
Maybe it's just for fun.
Or maybe… the dream comes when we hit REM.

Thoughts? Let us know in Exhale.