In a recent study, they rank as the biggest negative influences on kids under the age of 10. We disagree.
A study by VoucherCloud.com (who?) says Miley Cyrus and Nicki Minaj aren't good role models for children.
They asked 2,287 British parents, all of whom have at least one child under the age of 10, "are there any celebrities you would hate for your children to idolize?"
An astounding 78% of the parents surveyed listed Cyrus as a woman they don't want their kids to look up to, while more than half targeted Nicki Minaj as a negative influence. When the parents were asked the reason WHY they felt Cyrus and Minaj were bad role models, the most common response was: "I don't want my child to end up going off the rails."
The BreatheHeavy.com team sees it differently.
Both women actually have their **** together. Not only are they hard working business women (Miley is set to host the MTV VMA's on Sunday, Minaj is touring), they put forth an inspiring confidence and continually stress equality – something young girls should absolutely look up to. While we aren't suggesting your 10-year-old learn Miley's infamous VMA "choreography" with Robin Thicke or get on all fours like Nicki Minaj in the "Anaconda" video, we feel too much emphasis is getting placed on these women's bodies and less on their intellect and good intentions. We're listing three reasons each why young kids should look up to Miley Cyrus and Nicki Minaj, and remain unapologetic.
Miley Cyrus
1. Her Happy Hippie Foundation supports homeless LGBTQ youth. Miley performed a series of concerts in her backyard with assistance from Joan Jett, Ariana Grande and Laura Jane Grace to raise awareness – even using her Video of the Year acceptance speech at the MTV VMA's award last year to give a homeless young man the platform to speak.
2. Miley's stance on violence indirectly took a dig at Taylor Swift, but she had a point. Everyone praised Swift's "Bad Blood" music video, but it does glamorize brutality. "I don't get the violence revenge thing. That's supposed to be a good example? And I'm a bad role model because I'm running around with my ******* out? I'm not sure how ******* are worse than guns."
3. She doesn't give care anymore about beauty standards set by the media and Internet users. "When you look at retouched, perfect photos, you feel like ****," she said in the latest issue of Marie Claire. "They lighten black girls' skin. They smooth out wrinkles. Even when I get stuck on Instagram wondering, Why don't I look like that? It's a total bummer. It's crazy what people have decided we're all supposed to be. I'm probably never going to be the face of a traditional beauty company unless they want a weed-smoking, liberal-*** freak. But my dream was never to sell lip gloss. My dream is to save the world."
Nicki Minaj
1. Education first! On many (many) occasions, Minaj has stressed the importance of school, which we imagine many parents make a front-runner in their children's' lives.

2. She's a feminist, and believes her sexiness, which is a target in this survey that labels her a negative influence, is what makes her beautiful. In a 2013 interview with Vogue, Minaj touches on what being feminism means to her, saying:
"I think of myself as a woman who wants other women to be bosses and to be strong and to be go-getters. I've always said that, since I came in the game, even when I was doing mixtapes. I don't know. There are things that I do that feminists don't like, and there are things that I do that they do like. I don't label myself. I just say the truth about what I feel: I feel like women can do anything that they put their minds to. That's really the truth—I started off with just a dream.
There are sexual things that I do that aren't for a man. I feel empowered sometimes by being **** and being comfortable enough to be **** on camera—a lot of woman struggle with that. But there are some days that I don't want anyone to see me. I'm just a regular girl. Some days I'm super strong; some days I'm super insecure. But I don't really identify with any particular label. I just speak my truth and if people like it, they like it, and if they bash it, they bash it."
3. She wants racial equality. Her recent VMA blunder with Taylor Swift regarding Video of the Year at the VMAs brought to light an important message regarding the music's industry race problem – her video for "Anaconda," according to her, should have been nominated but wasn't. She criticized MTV for celebrating "women with very slim bodies" and not acknowledging black women's impact in pop culture.
Look, if your kids do decide to learn Miley's VMA twerking routine or shake their *** like Nicki Minaj in "Anaconda," more power to them. By the way, more than half said Kanye West (56%) and Justin Bieber (55%) were poor role models, but we're still waiting for a few more examples from each before we follow-up.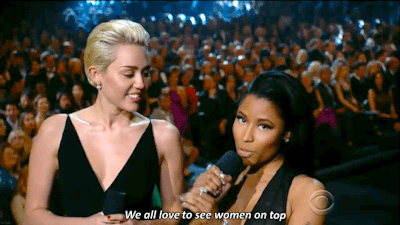 Thoughts? Let us know in Exhale!