"I'm a vegan nudist."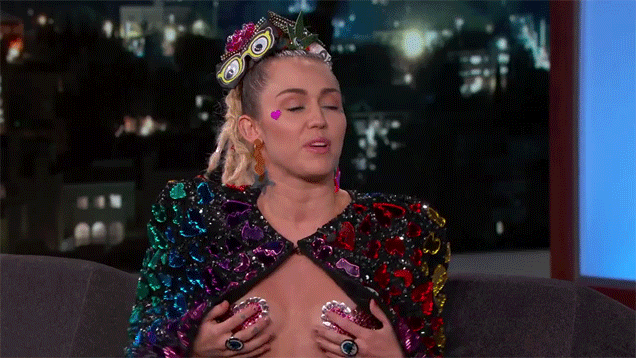 Miley Cyrus and her signature pasties made an appearance on Wednesday's episode of Jimmy Kimmel Live.
Miley is making the rounds for her MTV Video Music Awards hosting gig this weekend and she is pulling out all the attention grabbing stops.
Wearing heart-shaped pasties and a rainbow cape, Miley seemed completely comfortable and unfazed. Jimmy Kimmel on the other hand was a bit flustered and spent most of his time staring at and asking questions about her *****…naturally.
Miley told a story about making Paul McCartney uncomfortable while wearing a similar outfit to the Rock and Roll Hall of Fame.
"We were talking to Paul McCartney and I saw him not knowing how to talk to me. I don't really know how to talk to Paul McCartney so it made me very comfortable because it made him more uncomfortable. So sometimes it's a nice convo icebreaker."
During her visit Cyrus talked about ****** censorship, introducing her grandmother to Snoop Dogg and being a vegan nudist…naturally.
And just for good measure, here's Miley Cyrus undercover asking random people their thoughts on… Miley Cyrus:

I'm look forward to seeing what she pulls out for the VMAs if this is what she wears for a casual nighttime interview.
Are You excited for Miley's VMA hosting gig?