She prefers the minimalist life and isn't a fan of Taylor Swift.
Gearing up for her VMA hosting gig on August 30, Miley chats to Marie Claire about living thrifty.
It's been a while since we heard from Miley Cyrus, but the publicity machine is back up and running again. Amidst releasing a string of kooky VMA promos on Instagram, Miley is working her way back into the spotlight as the due date for her turn as the controversial awards show official MC draws closer.

[nggallery id=111]
22-year-old Cyrus appears to have found comfort in the simpler side of life and spoke to the
women's magazine
about a bunch of topics.
On not living a flashy life:
Cyrus, 22, is proud of her unpretentious, low-tech studio. A country girl at heart, she is not a big believer in conspicuous consumption or unnecessary excess—at least not outside the emotional or theatrical realm. "These big ******* studios other people put in?" she says of some of her colleagues. "You don't need that stuff. All you need is a microphone and a computer."​
Her cosy yet unmistakably #Miley home:
As she opens her front door, Cyrus' dogs circle around her ankles, barking excitedly. Like her studio, her home is hospitable and unaffected—there is nothing to suggest global superstar celebrity. There is, however, a 5-foot-tall embellished bong and a ***** covered in pink and red puffballs, art projects of Cyrus, though, she emphasizes, "The bong works."
On her 'Mo Money, Mo Problems' approach to the entertainment industry:
"People in this industry think, I just gotta keep getting more money, and I'm like, What are you getting more money for? You probably couldn't even spend it all in this lifetime. People get more famous, so that they can make their brand more famous, so that they can sell more ****, so that they can make more money. It's a never-ending cycle. Getting more money, having more hits, being the lead in the movie—those things might stimulate you, but they don't make you happy. I've experienced it all already, and I'm telling you firsthand, it doesn't."
Her opinion of the Bad Blood music video:
"I don't get the violence revenge thing. That's supposed to be a good example? And I'm a bad role model because I'm running around with my ******* out? I'm not sure how ******* are worse than guns."
Her charity foundation:
​"A lot of us are born into some ****, you know what I mean? Lately, I've been talking a lot about my being gender-fluid and gender-neutral. And some people snarl at that. They want to judge me. People need more conventional role models, I guess. But I just don't care to be that person."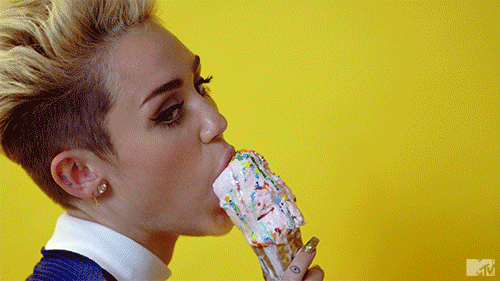 What do YOU think of Miley's new photoshoot + interview?