Wait. Say what?!
Upcoming LP will feature collaborations with Tegan & Sara, Dev Hynes and Ariel Rechtshaid.
No matter how bad "I Really Like You" tanked, it looks like Carly Rae Jepsen's sophomore album, E•MO•TION, will actually see the day of light on August 21. On Monday (July 6), the pop star uploaded an eight minute behind-the-scenes featurette, where she spills the goods on creating the '80s-inspired LP, including her secret weapon for making sure she records in tune.
Towards the end of the video, Jepsen gets a little silly with the camera man, introducing viewers to this scary looking **** that's in the corner of her vocal booth.
He's like there to make sure I stay in pitch, and my timing is on, and when it's not, he brings out that sword, and he pokes me with it. It's like basically intimidation that they use at this studio, but it works: Sing well or we'll kill you… slowly."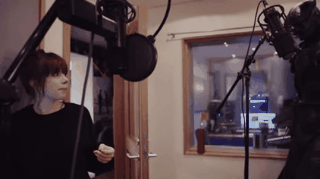 Aside from the funny blooper, Jepsen talks rather candidly about her love for writing (even more than singing) and the challenges that she faced in regards to getting passed the overwhelming success that came with "Call Me Maybe." "It was a wonderful adventure and I think it changed my life for the better in so many ways and it introduced so many new incredible people, but what I want to make is something different than that and letting go of that was a freeing thing," she confessed.
It's a refreshing glimpse to all the hard work that goes into making an album, especially from someone that could very well go down as a one-hit wonder. Regardless of future success, you can't not give props to the 29-year-old (IKR) for giving an earnest effort to make something she's proud of. We're rooting for you, Carly. Go get em!
Does the idea of singing in front of a knight statue scare the **** out of you or is it just me? Sound off in Exhale.