Madonna Reportedly Wants To Record A Song With Britney Spears And Ariana Grande
December 8, 2016
Like a "Bang Bang" on ********.
If the rumors are true, Britney Spears has some major collaborations in the works.
The Internet went ablaze this week following news Britney reportedly had a remix of "Do You Wanna Come Over" in the works with Christina Aguilera, but she's just begun (having her fun). If we are to believe a story from HollywoodLife, who are notorious industry bullshitters, Britney could have a second star-studded project down the line.
Related: Britney Puts Selfies In Motion To Madonna's "What It Feels Like for a Girl"
They claim Madonna felt such a connection to Ariana Grande following their on-stage performance at Madge's Raising Malawi charity benefit last weekend that she wants to unite again… in the recording studio.

(Video) Ariana Grande & Madonna rocking in the #RaisingMalawi pic.twitter.com/4PJ1wNV6xU

— Ariana World Update (@Arianaworldupd2) December 3, 2016
"Madonna absolutely adores Ariana and her bubbly, upbeat personality. After spending time together at the Malawi fundraiser, they talked about teaming up in the studio and collaborating on some music," an insider tells them.
They add: "Madonna's looking to create a huge hit song with Ariana in the New Year. She's also wants to include Britney on the song. Think 'Bang Bang,' but with an even bigger bang."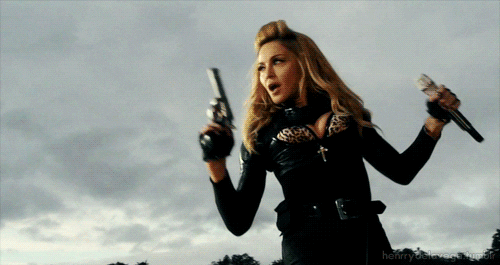 Something tells me this is definitely not happening, but most of me is delusional anyway.
Are you here for a collabo between Madonna, Britney and Ari? Let us know in Exhale.
And while you're at it… leave a comment and follow us on Facebook, Twitter & Instagram and subscribe to our YouTube channel.