Ladies & Gentlemen, the world premiere of Britney Spears' "Perfume."
Thank u all SO much for the kind words!! I'm so happy u guys are loving the song as much as I do! #PerfumePremiere

— Britney Spears (@britneyspears) November 3, 2013
It's been awhile… she knows she shouldn't have kept us waiting, but she's here now.
Britney Spears debuted "Perfume" on Sunday, one of only a handful of ballads she's released in her career. Spray that perfume and inhale, baby, because balladney is back.
Produced by Will.I.Am and Chris Braide and co-written by Sia and Britney, the song details a slow-motion breakup for Britney as another woman moves in on her man. The only thing she has control over is the scent she leaves behind. She seems just as confused and vulnerable as anyone does who experiences a breakup.
Such a classic tale
Current girl friend, ex girlfriend, I'm trying to be cool

There's nothing like this on radio right now – the electro-thumping behind Britney's low vocals? Intoxicating. It's like "Heaven On Earth" popped a Molly and hooked up with an "Everytime" remix. She's definitely marking her territory in 2013 pop music, and thank God, cause if I have to hear "Wrecccccking Ballllll" one more time I'm fleeing the country.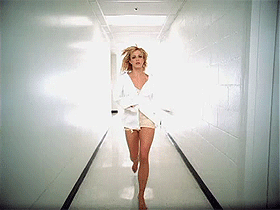 Britney never confirmed the song is about Jason Trawick ("wasn't my hardest breakup"), and after reading the lyrics it seems like it's not. Yes, she's pounded into our brain this is her most personal album to date, but it doesn't mean this song is. To be honest, I prefer that – I enjoy when an artist leaves a song open for interpretation. I can close my eyes and discover my own meaning to it, what's more personal than that?
Congratulations, Britney. An awesome slow-jam fans can rock out to this winter!
Do I imagine it, or do I see your stare
Is there still longing there?
Oh I hate myself, and I feel crazy
Such a classic tale
Current girl friend, ex girlfriend, I'm trying to be cool
Am I being paranoid, am I seeing things?
Am I just insecure?
I want to believe
It's just you and me
Sometimes it feels like there's three
of us in here baby

CHORUS
So I, wait for you to call
And I try to act natural
have you been thinking 'bout her or about me
And while I wait I put on my perfume, yeah I want it all over you
I gotta mark my territory
I'll never tell, tell on myself but I hope she smells my perfume
I'll never tell, tell on myself but I hope she smells your perfume
I hide it well, hope you can't tell but I hope she smells my perfume
I hide it well, hope you can't tell but I hope she smells my perfume
I wanna fill the room, when she's in it with you
Please don't forget me
Do I imagine it, or catch these moments
I know you got history
But I'm your girlfriend, now I'm your girlfriend trying to be cool
I hope I'm paranoid, that I'm just seeing things
That I'm just insecure
I want to believe
It's just you and me
Sometimes it feels like there's three
of us in here baby
CHORUS
So I, wait for you to call
And I try to act natural
have you been thinking 'bout her or about me
And while I wait I put on my perfume, yeah I want it all over you
I gotta mark my territory
I'll never tell, tell on myself but I hope she smells my perfume
I'll never tell, tell on myself but I hope she smells your perfume
I hide it well, hope you can't tell but I hope she smells my perfume
I hide it well, hope you can't tell but I hope she smells my perfume