Lana Del Rey unleashed her ultra violence against a fellow female pop star, but who?
In a new interview with Grazia, Lana describes one of her latest "Ultraviolence" tracks titled "****** My Way Up To The Top," saying its about a basic *****.
Translated from LanaBoards.com:
"It's about a singer who first sneered about my allegedly un-authentic style, but later stole and copied it, and now she's acting like I am the art project and she's the true super artist. My God, and people actually believe her. She's successful! I shouldn't continue ranting – it doesn't get anywhere.
Exhalers think the songstress is referring to Lorde, who labeled Lana "irrelevant" during an interview last year.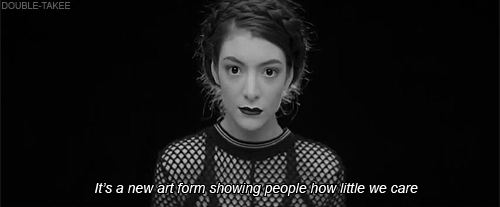 Lorde previously said:
"Around the middle of last year I started listening to a lot of rap, like Nicki Minaj and Drake, as well as pop singers like Lana Del Rey. They all sing about such opulence, stuff that just didn't relate to me-or anyone that I knew," she said. "I began thinking, 'How are we listening to this? It's completely irrelevant."
Lana released a new song today off "Ultraviolence" titled "Brooklyn Baby."