Jealousy.
Kelly Clarkson and Avril Lavigne got off on the wrong foot, err… elbow.
The Meaning Of Life singer dropped an interesting gem during her interview with Howard Stern today (Nov. 1). Clarkson revealed after winning American Idol, she had a hard time fitting in with some of her fellow pop peers. She believes their disdain stems from her Idol victory – that fame and fortune was handed over and she didn't have to pay her dues.

"I got elbowed in the face by someone I was giving an award to at the VMAs," she told Stern. Kelly didn't name Avril Lavigne by name, so Stern pushed it. "Was it Avril Lavigne who elbowed you in the face?" he asked. "It was her," Clarkson responded. "But I will say this: Years later I saw her and she said, 'Oh my gosh, people keep saying I elbowed you in the face and I'm so sorry!' And I don't know… she did it… but I don't know if she felt bad about it, or she didn't mean to do it, or what… but it felt purposeful! I think what I was bummed about is I'm a fan of hers," Clarkson added. "I loved her music."
Below is the moment in question. Clearly, Avril dodged a huge and, well, the entire thing is just very awkward.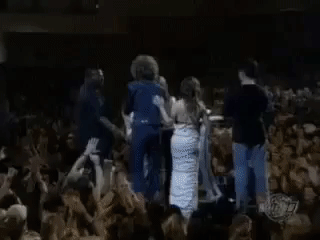 Avril's also partly-responsible for co-writing one of Kelly's biggest hits, "Breakaway," and Kelly had some praise for that. But the entire thing is a major kii.
Thoughts on the incident? Let us know in Exhale.
And while you're at it… leave a comment and follow us on Facebook, Twitter & Instagram and subscribe to our YouTube channel.