Lopez says Mariah is forgetful.
JLo thinks Mariah Carey is just forgetful.
Jennifer Lopez and Mariah Carey should get to know each other now that they're label-mates on Epic Records. JLo announced the news on Wednesday she's returning to Epic to continue recording her next studio album, so to promote that and her many other ventures, like NBC's Shades Of Blue and her All I Have Vegas residency, Jenny from the block dropped by The Wendy Williams show. Jennifer mentions the shows she saw in Vegas ahead of launching her own – Britney, Shania – but admits not seeing Mariah's because she wasn't playing at the time.
Of course, Wendy interjects with a "WHO," addressing one of the Internet's most favorite moments, and Lopez explains.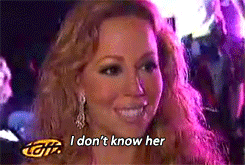 "She does say that, she's forgetful I guess…. We've met many times. I don't know, ummm I don't know her that well."
Watch below:

Handled like a pro.
Thoughts? Let us know in Exhale!
And while you're at it… leave a comment and follow us on Facebook, Twitter & Instagram!