I think Beyoncé's trying to tell us something.
Red-cup enthusiast and part-time mother Beyoncé has surprised the world yet again… but don't expect a new album any time soon.
B took to her trusty Instagram account earlier today to post her daily reminder that while we're working that 9 to 5 just to stay alive she is on a beach somewhere in the world. Although, this sandy photo shoot is not quite "Drunk In Love" as her usual bikini-clad bod is buried in the sand and a huge bump is in place of those rock-hard abs.
It doesn't take a genius, or an al-gu-brah expert, to realise that this is probably her way of telling the world she pulled out that Freakum Dress again and now Blue Ivy's getting a little brother or sister. Or was this just Blue messing with her momma on her 3rd birthday vacay?
To be honest, I'll be a little shocked – maybe even upset? – if this is the official announcement. With the Grammys just weeks away, I would have at very least expected a performance of "Partition" beginning with a deep-voiced statement along the lines "this is the song that Jay and I were listening to when Destiny's second Child was conceived – now get on your feet!"
Like so.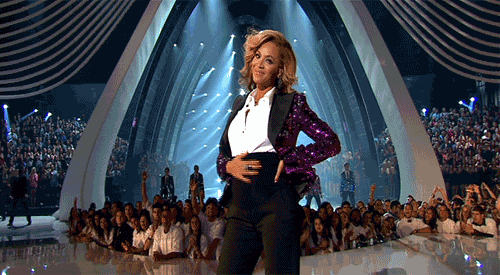 Do you think Blue Ivy will be happy about this?