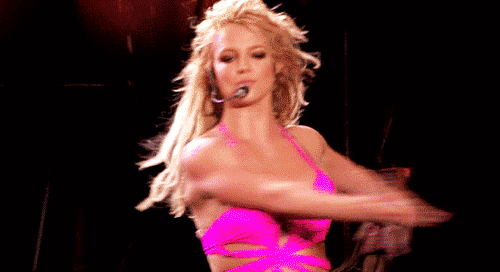 Some of the best songs off "In The Zone" didn't actually make the album, but did find their way onto the DVD. "The Answer" for one, produced by P.Diddy, is about Britney finding that special one.
"Who can hold me tight, keep me warm through the night?
Who can wipe my tears when it's wrong, make it right?
Who can give me love till I'm satisfied?
Who's the one I need in my life?"
"Don't Hang Up" is another sexually-charged track off ITZ because it references Britney's urge to (as she puts it) release. Are we surprised? Nope. Britney co-wrote the track herself along with Josh Shwartz ("Brave New Girl").
I'm not alone
I can still feel you
feel you when I'm lonely, and now I'm coming too
Probably the most free spirited tracks she's ever released (Ok, "Anticipating" gives it a run for its money) is the Bloodshy & Avant-produced "I've Just Begun (Having My Fun)." It was co-written by Michelle Bell and released at a time where Britney was partying, experimenting, getting 55-hour marriages. Why? Because she was having fun.
I'm just a crazy kind of girl
I'll tell it to the world
I've just begun having my fun (yeah)