To celebrate Britney's birthday, BreatheHeavy put together a list of 34 Britney-related things her fans know and love.
Happy Birthday, Britney!
It's hard to imagine we were formally introduced to Britney Spears when she was just 16-years-old. To think she's celebrating her 34th birthday today (Dec. 2[!!!]) not only reminds us how much of a living legend she is, but forces us to look in the mirror and evaluate how basic our lives are, because no matter how many hair flips we flawlessly execute in our bedroom ("Slave 4 U" choreography included), we will never be as cool or interesting as Britney.
To celebrate the big 3-4, we put together a list of things we know every true Britney fan holds dear to their heart.

01. Hairflips
We're five sentences in and this is the second mention of them. They're imperative.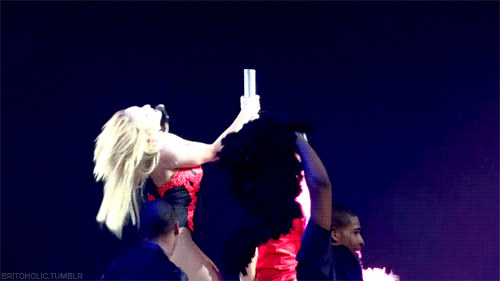 02. "Baby One More Time."
It's what started it all. Thanks to her idea of changing the music video from a cheesy cartoon to a real life schoolgirl-themed vid, Britney became the girl all the other chicks envied, all the guys wanted and all the gay boys idolized.

03. Pepsi
If anyone asked you what your favorite kind of Pepsi is, you know what to say: "My favorite kind of Pepsi? Pepsi's Pepsi!"

04. Starbucks
While we're on the subject of beverages, we'd like to take a moment to honor Britney's loyalty to the brand. Here's two photos of Britney holding her favorite Starbucks drink… taken 15 years apart.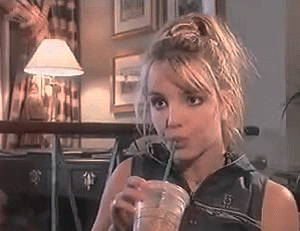 05. Perfume
Britney has one of the most successful celebrity fragrance lines of all time, pulling in billions (with a 'b') of dollars in sales and reportedly sells one every 15 seconds. By the time you're done reading this particular caption, she sold another.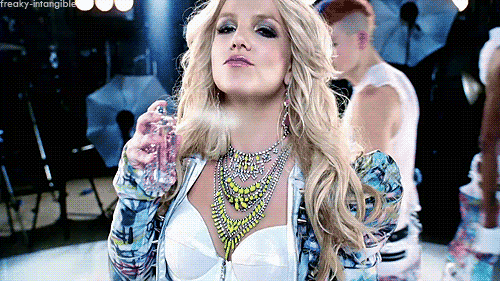 06. Perfume
Speaking of… we won't go into too much detail about how upsetting it is we'll never witness the original "Perfume" music video by director Joseph Kahn. Current mood:

07. Rebellion
Will this mysterious track created during the brink of Britney's darker days ever surface? No. In fact, the producer behind it claims to have the "real" version, but alas it remains to be seen. But in rebellion, there's a sparkle of truth.

08. Original Doll
Britney recorded material for an album dubbed Original Doll in between In The Zone and Blackout, but it was scrapped when her personal life began to overshadow her career. Several of the tracks like "Mona Lisa" and "Chaotic," were repurposed, and although fans were fortunate enough to gather a handful of b-sides from the era over the years, the record remains a mystery.

09. Dream Within A Dream Tour finale.
Watching the entire show still leaves us speechless, but the ending is untouchable. Holy ****.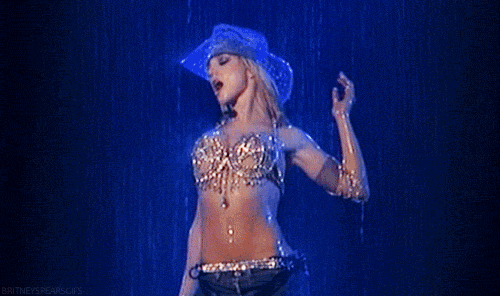 10. "Sweet Dreams" interlude.
Did we see Britney creating a tour video using a Marilyn Manson song? No. Do we die for it every time? Absolutely.

11. Banana the snake
It's pretty darn cute Britney wondered how the snake she famously performed with at the 2001 VMA's was doing. Meanwhile, we're wondering what we've done with our lives since then.

12. The Kiss
Several important pop culture moments came to fruition following Madonna's open-mouth kiss with Britney at the 2003 VMA's: Christina Aguilera became bitter Britney outshined her, Justin Timberlake was caught angrily nodding at it all and Brit's lead In The Zone single "Me Against The Music."

13. The first "Breathe On Me" performance.
Before smart phones and social media existed, it was possible to perform under the radar, and her surprise performance at The Palms in Las Vegas was the last time she could do that.

14. Saying 'cool.'
It takes up 75% of our real-life vocabulary, and we're cool with it.

15. For The Record
The 2008 documentary re-introduced Britney as the pop idol we fell in love with. Just don't call it a comeback.

16. Britney And Justin 4Eva
There will never be another Britney and Justin (you hear that Selena and Justin?), and though we know we should move on, we can't help but hold onto the past. Even recently she honored Justiney.

17. "Toxic"
Britney claims to this day her favorite music video is "Toxic," and it's easy to recall why.

18. Britney's Dance Beat
Playstation 2 knew what they were doing when they created a game based-off Britney's likeness. We learned about our inner Queen at a young age through a virtual realm that we're excited to revisit when Brit releases her smart phone game in 2016.

19. The X Factor facial expressions.
You'd be lying if your face didn't default to one of the many uncomfortable faces Britney shared during her time on The X Factor. There's many to choose from, but we usually rock this one: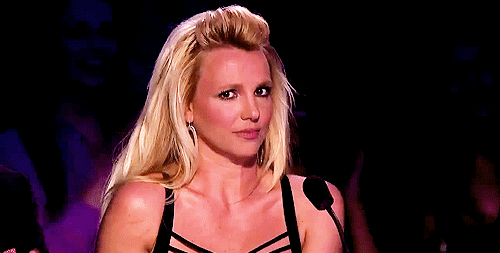 20. The random **** she says.
There's something liberating about Britney encouraging you to rock out with your **** out.

21. Unscripted interviews.
It's rare these days to hear Britney speak openly about something outside of work (*****), so let's appreciate the times she did.

22. Belly button rings
Admit it, you snuck off without your parents' permission to get your belly button pierced. Ladies, I'm talking to you too.

23. Radar horse
RIP.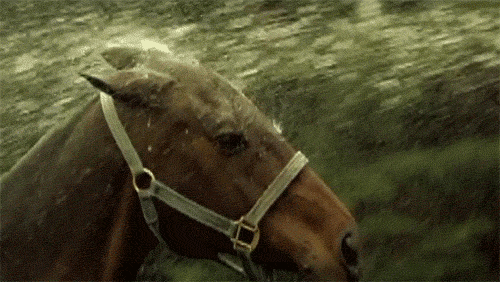 24. Jamie Lynn
Brit's lil sis shied away from the spotlight after announcing she was pregnant with her daughter Maddie, but her little girl is growing up and allowing JL more time to pursue her country music career. "How Could I Want More" is our jam.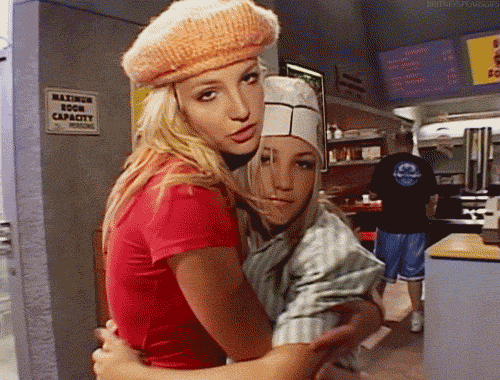 25. Living Legend
Her status is solidified, and you're DONE explaining to your so-called friends why she's so incredible.

26. The Super Bowl 2016 rumor
This one's relatively new to the game, but we can't help but torture ourselves over the idea that Britney could perform at next year's Super Bowl halftime show. I mean… what the hell else was that commercial for?

27. The "Blackout" section in Piece Of Me.
Vegas can't get enough of Britney, and she knows it. She recently announced a two-year extension for Piece Of Me with reported plans to change 50% of it come February 2016. We hope the "Blackout" section doesn't get the ax, it's one of the best parts of the show. Actually… add "Hot As Ice" and we'll be satisfied.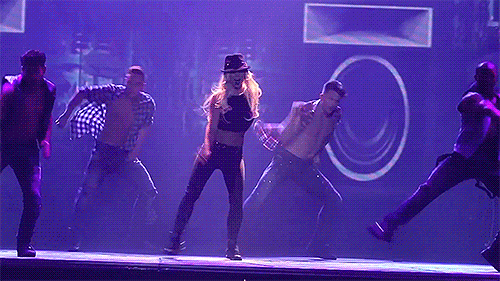 28. "Gimme More"
Would our lives be vapid and meaningless without "Gimme More" and the iconic "It's Britney, *****" line? The answer is yes.

29. The Instagram updates
We aren't familiar with this side of Britney circa the digital age. She's shared more memes, inspirational quotes and random videos of her flipping and impersonating Woodie the Woodpecker than ever before, and we thank Godney for it.

30. Godney
The Holy Spearit is our religion.

31. The Bible A.K.A. "Blackout"
Britney put forth a sonically-cohesive sounding album that challenged the 2007 pop music scene, yet it remains fresh with every listen, and trust us… there's been a lot.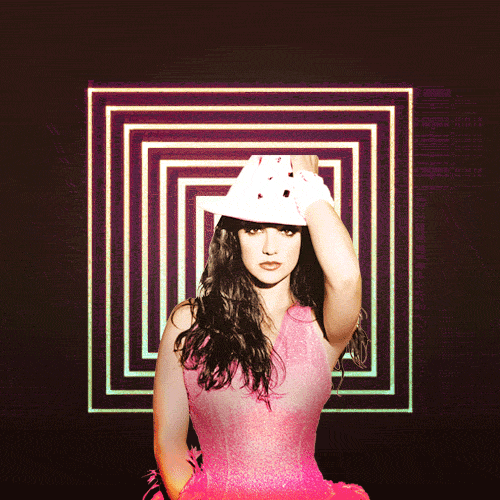 32. The Britney Army
Her loyal fanbase has won the Queen many a poll, including voting "Criminal" as the fourth Femme Fatale music video (justice for "Inside Out"). The fans are the reason Britney continues to push herself in the recording studio and on stage. But beware… diss the Queen and face the agonizing wrath because… no one messes with our Britney. Right, Christina?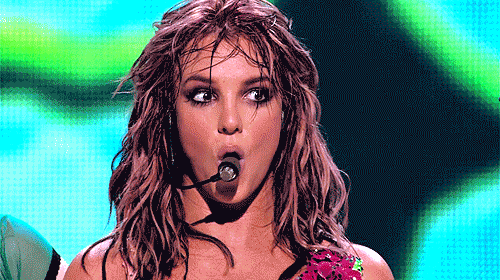 33. Sean and Jayden
Britney wouldn't be the woman she is today without her two boys, and someday they'll understand.

34. Happy Birthday, Britney!
If you've made it this far, December 2nd is the single most important day in your life. We love you, Britney!

Be sure to wish Britney a happy birthday in Exhale (
register here
)!