As well as clarifying Little Mix's involvement in the writing process.
Iggy Azalea's popularity just rose exponentially amongst the Britney Army as she confirmed that she and Britney Spears will perform new collaboration "Pretty Girls".
Despite turning her back on all social media last month, Iggy Azalea took to her Twitter this evening to clear up any confusion amongst Little Mix fans about exactly who wrote "Pretty Girls", set to drop on May 5 and tease that all important debut performance.
As BreatheHeavy reported back in January, evidence emerged that Little Mix and Iggy Azalea appeared to be working together on a then-unknown track, "Pretty Girls". Iggy cryptically tweeted that the song wasn't "affiliated with Little Mix", completely neglecting to mention that it was to become Britney's next single, and first cut from her ninth studio album.
Fast forward to today, and Iggy decided to set the record straight on exactly why Little Mix still have writing-credits on the song:
@UpgradeYourStat Actually the invisible men wrote britneys parts and i wrote my own parts plus rewrote parts of the hook…

— IGGY AZALEA (@IGGYAZALEA) April 14, 2015
@UpgradeYourStat when the I.M wrote the demo version little mix where in the session and therefore they have remained on the credits

— IGGY AZALEA (@IGGYAZALEA) April 14, 2015
@UpgradeYourStat thats how it works for anyone thats present in the room when a song is written and good for them. love little mix.

— IGGY AZALEA (@IGGYAZALEA) April 14, 2015
@UpgradeYourStat but don't discredit me or shade brit. fans have no idea on demo process, songs have many lives before the word hears them.

— IGGY AZALEA (@IGGYAZALEA) April 14, 2015
In true Iggy style, she then continued to take fan questions, which you can check out on her official Twitter. Highlights include an interlude regarding horses (#RadarsInfluence), Iggy clapping back at those who are still shading her attempts at freestyling and the "Fancy" star letting us know that she co-directed the "Pretty Girls" music video. All jokes aside, she also had some interesting things to say about the demo/writing-credit relationship that artists and producers rarely break down for the public – it's a topic that typically stays shrouded in secrecy, making the whole thing confusing for audiences and fans to unpick.
Of course the highlight of her triumphant sort-of-return to social media was this:
Hi just wanted to come online and tell you all how extremely excited iam for Pretty Girls to be released & that we are going to perform it 2

— IGGY AZALEA (@IGGYAZALEA) April 14, 2015
Yes, you read that correctly, she and Spears will take to the stage sometime in the near future to promote "Pretty Girls". When will "Work, *****!"?
Speculation as to the whens and wheres of "Pretty Girls'" debut outing rages on, with many suggesting that the Billboard Music Awards are a perfect platform to springboard the song into chart success, whilst others (perhaps more realistically) guess that Iggy will be booking a room at Planet Hollywood to join Britney for a show or two on the next leg of her Vegas residency.
The truth? Who knows. As with all things Britney-related…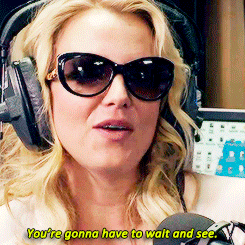 Thoughts? Feelings?