For The First Time Ever… Britney's Lead Single Might Not Be A Dance Track
June 5, 2016
No one's going to make Britney Spears do anything this time around.
No one's going to make Britney Spears do anything this time around.
Like most things in Britney Land, her forthcoming release is a carefully plotted secret mission. For most of 2016, there was no concrete evidence to suggest Britney would release a single in the summer. The recent reports regarding her new song titled "Make Me," which she never officially confirmed, are either hearsay or strategically "leaked" bits of information meant to create a buzz. Mission successful, because The Britney Army is on high alert surrounding their queen's upcoming "artsy and different and out there" release, and it could be her most unconventional debut to date.
Is the Original Doll era finally upon us?
Back in February, Britney's longtime manager Larry Rudolph warned fans they should expect to see a new side to Britney. "The last few albums have been pretty straightforward pop. This is different," he affirmed. "This is almost like a Britney meets The Weeknd."
BRITNEY MEETS THE WEEKEND?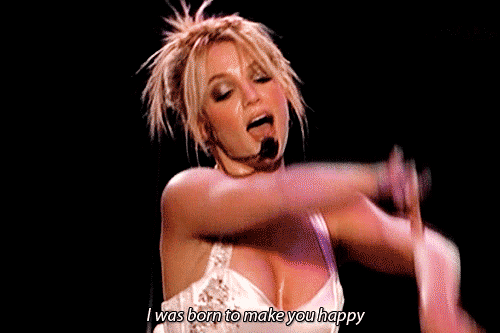 Rudolph's revelation planted the seed, and over the next few months we watched the speculation tree plant its roots and grow. Britney herself tended to and nurtured the pop shrub, sharing candid photos of her in the recording studio with the likes of Julia Michaels and Justin Tranter ("Sorry", "Hands To Myself"). Tranter recently gushed over Britney's song writing capabilities. "Nobody ever talks about Britney as a writer and she's f**king great, like insane," he said. "Her concepts were bold and smart and very left of centre, in a good way," he said. "Melodically, she has melodies for days. How come no one mentions that this girl can write the f**k out of a song?"
Get ready to taste the fruits of her labor.
Over the weekend, a clip that fans suspect is Britney's new single surfaced onto the Internet. The audio was taken from what appears to be a dance studio rehearsal, and IF it was indeed Britney's voice and IF it's her lead single, then the world should prepare itself for the chillest lead Britney single since she began. The song was mellow, pretty and a far departure from the usual beat-heavy dance track Brit typically drops first.
But are we surprised?
This year, Britney added two iconic slower songs to her lit Vegas residency: "Breathe On Me" and "Touch Of My Hand," both from her 2003 album In The Zone. She also decided to include them in her recent Billboard Music Awards performance which was meant to highlight her greatest hits. Though they were never officially released as singles, her fandom gravitated towards the songs and replayed them for years. The general public might've not not understood her song selection, but "Make Me" could be the answer; This was Britney's way of telling the world she's not just a one trick pony.
However, a separate clip of Britney and her male dancers surfaced over the weekend from the video shoot. The dancers were seen writhing around on a bull dozer while Britney sat on the lap of the driver inside the machine – that visual doesn't exactly fit the mood of a mellow pop tune, does it?
That remains to be seen, but one thing's for sure: a music video is on its way. Britney shared several photos from the shoot with her "Make Me" co-star, rapper G-Eazy.

Ooh look who I found… @G_Eazy pic.twitter.com/4Xuk7x35wY

— Britney Spears (@britneyspears) June 2, 2016
"It's a little melodic, a little more not so poppy," Brit said last week of what will be her ninth studio album. "It's kind of chill. Very chill."
Others included on the album DJ Mustard, Mischke Butler, Chantal Kreviazuk, BURNS, Simon Wilcox, Ian Kirkpatrick and maybe Danja ("Gimme More").
"Honestly, I'm just particular with this record," Britney told V magazine earlier this year. "It's my baby, and so I really want it done right. I just know that the direction I'm going in is so good. It's the best thing I've done in a long time. I'm proud of the work, and it's very different; it's not what you would think at all."
When pushed for a release date at the time, she said "I'm not rushing anything. I would much rather have it be completely how I want it to be, whether that takes another year for me to do, or two months. I have no idea at this point. I just want it to be done right, so that my fans will truly appreciate it."
Adding, "I'm being more hands-on with this one."
"Make Me" will reportedly drop next month followed by the full album in the fall.
Thoughts on chill Britney? Let us know in Exhale.
If you haven't already, register an account in Exhale and chat with thousands of pop music lovers.