FKA twigs Brings World Premiere Of "Soundtrack 7" To Brooklyn
August 6, 2016
Singer uploaded the film to her YouTube account.
UPDATE // DECEMBER 14:
Months after the premiere, FKA twigs uploaded the short film to her YouTube account and it's just as stunning as we remember from the premiere. Watch the visual below!
Alt-R&B goddess takes us down the rabbit hole once again.
New York ⏤ Brooklyn was treated to something imaginative, something emotional and something a little confusing on Wednesday night (August 3) when FKA twigs brought the world premiere of her self-directed short film, "Soundtrack 7," to the BAM Rose Cinemas.
Twigs' sold-out affair kicked off shortly after 7:30 p.m. when the 272-capacity theater went from chattery to awe-struck as the 28-year-old's trippy vision board came to life on the big screen. After appeasing the audience with a short film made of music videos from 2015's M3LL155X, it was straight down the rabbit hole and onto the main attraction, "Soundtrack 7," the British pop star's abstract autobiographical 52-minute dance film.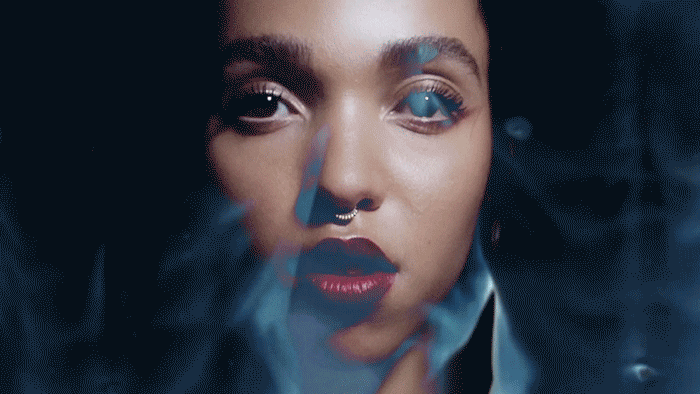 Throughout her seven-day residency at Manchester's Old Granada Studios (as part of the Manchester International Festival), twigs filmed seven dance pieces to songs from past and present, including "Preface", "How's That", "Ultraviolet", "Good to Love" and more. It took a week worth of workshops in London, but once the choreography was set, it was down to business to film one routine per day. Each one had its own message. Each conjured up a different emotion. And each symbolized something distinct to twigs. With a live audience, a sequence of intricate lighting and an abundance of fury to back the choreography, twigs and her crew dazzled in the sound stage performances, which were split by solemn recitation of Thomas Wyatt's poem "I Find No Peace."
After the showing of "Soundtrack 7," twigs joined the audience for a special Q&A portion of the evening, where her endearing awkwardness left you feeling more like you were hanging with a new friend than the critically acclaimed indie R&B star.
"I was really honored but I felt very conflicted because MF is something that I had heard of a lot over the last three years, but to me, it's like a ghost because I've never been able to go out and see the shows," she explained of being asked to participate in the Manchester International Festival. "It's like someone would go and do a performance and it would trickle through the ghost of what happened in London, but there was never anything tangible that you could hold onto and so I thought 'Yeah … I'd love to do a performance and I'd love to do something involving dance, but to film it and have something that everyone can see afterwards would be more special because then we could all be here and watch it together."
As important as it was to film the fruit of her labor, twigs wanted to make sure she got it just right by stripping back any potential high gloss and focusing on what was important: backing the movement with raw emotion.
"Over the past two or three years, I've sort of been living by the mantra that you can't copy talent and you can't copy training and that's something that I wanted to portray in this. It's not heavily costumed. It's not about the makeup. It's not about anything like that," she explained of the project.
"The most incredible thing [was] just to have a group of young people in a room that are really passionate about creating something. It's not about smoke or mirrors or a hit song or a snazzy costume. It's not about a **** body or anything like that. It's just about a group of people that had devoted so many hours to training and dance and feeling and what happens when you put them all together."
No word on when "Soundtrack 7" will be available online, but in the meantime, take a look at this behind-the-scenes featurette for the film and her most recent video, "Good to Love."
What's your take on FKA twigs? Sound off in Exhale?
And while you're at it… leave a comment and follow us on Facebook, Twitter & Instagram