I expect a whole lot of drama.
Christina Aguilera is giving the whole acting thing another go with a guest run on ABC's "Nashville," and now we finally have our very first peek of the singer in action courtesy of a brand-new TV spot, which aired on Wednesday night (March 25).
Watch Xtina do the damn thing after the cut:

In the 30-second spot for the upcoming episode "I Can't Keep Away From You," viewers are treated to a whole lot of everything, including a *** scene, cake tossing, guitar breaking and a mother freaking baby birth. But none of that compares to the last 15 seconds of the promo, where Aguilera parades on stage in the pink "Your Body" wig and dishes exactly one line.
Asked by Luke if she's going to be staying around the "Nashville" turf for a bit, the superstar offers one word, two syllables and enough charisma to make me want to DVR the show until its presumable cancellation in 4 years or so.
Maybe.
Aguilera is set to push the boundaries of acting and play a pop superstar named Jade St. John, who wants to record a country album, but her label isn't putting up with that ish. Sounds like she doesn't have that Big Machine Records backing.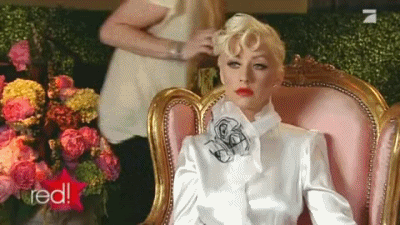 Aguilera's first episode of "Nashville" airs April 15 at 10 p.m. EST, but you can watch her in the TV spot below!
Are you excited to see Christina on "Nashville"? Tell us using your favorite GIF in Exhale.