Look, Britney Spears is up to something and I demand to know what it is.
Is Britney adding a new number to Piece Of Me? Is watermelon her favorite bubble gum flavor? Does she drink a Starbucks every day? Does she consistently order a zesty chicken bowl with a Fanta Fanta (no coke)? The answer is yes, yes to it all.
Britney dropped by the dance rehearsal studio on Thursday, this time with her vocal coach, giving the Britney Army a glimmer of hope she's performing some live ish when she returns to Vegas on the 28th.
See the pic here:

Because we keep tabs on homegirl, we know she
hit up the dance studio on Monday
in her opening performance ensemble,
and again on Tuesday.
Perhaps she's filming a commercial for her new hair product line at Lydl, or filming a scene for her Piece Of Me DVD, but probably not. BRB while I put on the blinders and pray for the epic "Hold It Against Me" performance she's adding sans the chairography.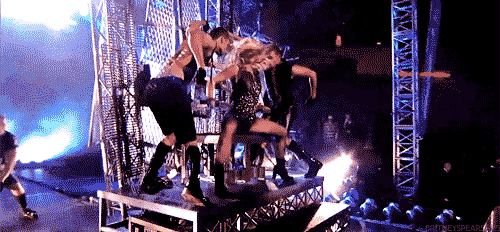 If I said I want a new number, would you hold it against me?