Producer Dr. Luke
described "Brightest Morning Star"
as a song "kinda about her kids," and that made me very happy. Until co-writer Sia said it's actually about Jesus. That made me sad.
"She wanted to write a kind of gospel song that wasn't ramming it down your throat," Sia told Rolling Stone. "She came in with the title 'Brightest Morning Star' and told me that's how Jesus found his way."
If only Jesus had an iPhone…

Honestly, I can't get into this song. The production is solid, her vocals are strong, it's unique, but I don't want any Jesus Christ affiliation tied to my precious Britney Spears music. For all I knew, "Brightest Morning Star" was about the Big Bang, atom splitting, solar flares or hydrogen. Now, all I picture when this song comes on is: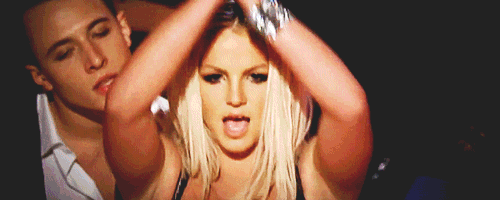 I love that Britney's spiritual, religious, whatever, so I respect the direction they tried taking. And hey, we wanted personal… we certainly got it!
I lift my hands and pray cause life gets tough some days
But I will not loose faith, cause you will lead the way

You're my light when it gets dark
You're always in my heart
You're my Brightest Morning Star
Written by: Britney Spears, Lukasz Gottwald, Sia Furler, Henry Walter
Produced by: Dr. Luke & Cirkut
Vocals Produced by Christopher Braide
Additional Vocals Produced by: Anthony Preston
Additional Background Vocals by Sia, Christopher Braide, Kelsey Cunningham, Katie Mitzell Fagan, Rachael Findlen, Lukasz Gottwald & Henry Walter