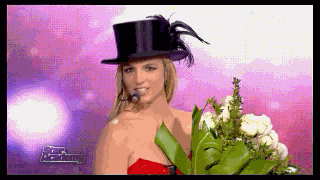 Britney
thanked celebs for all her birthday
support today on Twitter.
@ParisHilton Thanks Paris for the video! Your new car is so Hot! Xxoo

@VictoriaJustice Thanks Victoria. Stirring up some old memories. Forgot that I did that! Xxoo

@ddlovato Thanks Demi. Feels like forever ago since we met at the show! Xxoo

@nicolerichie Thanks Nicole. Means a lot to me! Xxoo

@TheEllenShow Thanks Ellensogenerous! Xxoo

@keshasuxx Thanks Miss Kesha. Just watched this in bed w my boys. Now I have to explain what Fuc#ing means!! U rock Xxoo

@LanceBass Thank u Lance for taking the time to make the video. You knew me when I was celebrating my 18th! Wow. Feels like yesterday. Xxoo

@SabiSoundz Thanks Sabi for the video. The boys said oohh Sabi said a bad word! Love it. Xxoo

@heidiklum Such a nice surprise! Thank you Heidi for the shout out. So sweet. Xxoo

@DJPaulyD Thank you Pauly! See you soon. Xxoo

@TheRealXtina Thank you girl. Max is so cute! Miss you. Xxoo

@KimKardashian Thank you so much Kim for your kind words and wishes! Luv u too! Xxoo

@justinbieber Awww. So cute to think of me. Thank you! Xxoo

@rihanna Thank you so much. Love the new album! Xxoo

@MileyCyrus Thanks Miley. Wish you all the best! Xxoo

@YO_RANDYJACKSON Thanks Dog! So sweet and unexpected. Xxoo

@RyanSeacrest Thank you Ryan. Next step for you are extensions! Xxoo

@iamwill Will.I.AM thanks. I'm so proud of you too! Its nice to see your face on the screen every night! Xxoo

@katyperry Thank you Katy! So nice of you to think of me. Xxoo

Thanks y'all, now go back to studying! LOL youtu.be/LilT3XErEVw

Awww, u cute ladies from Hong Kong! youtu.be/CIJ5hNrfZjY

This was my boys favorite! youtu.be/ihp2NzeDyVI

Having an incredible birthday – thanks to my fans for all the amazing wishes & videos! Still trying to watch all of them. I love all of u!!!