UPDATE: The full interview is upon us.
If you're having trouble viewing this Stackerdecks post:
Click Here
UPDATE // OCTOBER 04: The promo hyping the appearance was a tad misleading. In the full interview (available below), Britney looks like she's enjoying herself guessing the dance moves to her routine performed by Rylan Clark-Neal. Sure, he's a bit out of breath after only a couple of moves, but he was accurate enough for the princess of pop to play along to. Watch that, plus their chat about Glory, performing Piece Of Me and her boys.

---
EARLIER // SEPTEMBER 30:
Britney's face says it all.
Often times during a promo tour, the "Love Me Down" singer's interviews begin sounding a little similar due to the questions interviewers are guided towards sticking to. That leads to some concocting ideas they hope will connect with Britney, which can prove to be a brilliant tactic, or in Rylan Clark-Neal's case… a disaster.
He attempted a game of 'Would You Rather' where he'd involve the pop star in a dance-off, but she wasn't feeling it.
"I've been so involved in this interview, I'm not going to lie," he said. "I'm going to do a dance off, I'm going to dance for her and she has to guess which song it's from. We're going to play 'Would You Rather?'… 'Would you rather do a duet with me or get an injunction?' I can't wait!"
He executed a few moves for her, but she appeared puzzled and glanced off to her team in the background hoping for a rescue.
"It was an amazing embarrassment," he continued. "It was really fun, we had a great time and I love her to bits. See it on Monday, it will be a right old laugh!"
Watch: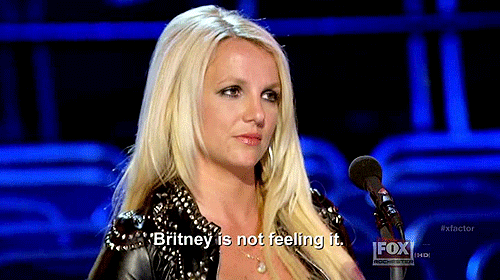 Thoughts on Britney's reaction? Let us know in Exhale.
And while you're at it… leave a comment and follow us on Facebook, Twitter & Instagram.