I wanna get in the zone.
I'm going to begin this post pointing out we are ******* OLD. "In The Zone," one of the best pop albums of all time, debuted (in the U.S.) 11 years ago today. That's right, you've spent over a decade relating to being hungover and not giving a **** ("Early Mornin'"), shutting the blinds ever-so-slowly and busting out the Swiss Navy ("Touch Of My Hand"), spending a ridiculous amount of money on a trenchcoat and underwear ("Outrageous") or re-creating the entire "Toxic" video in your bedroom.
There's a lot I could say about the album, but nothing you can't read here.
Instead, I'll share my favorite song off the album:

"Breathe On Me."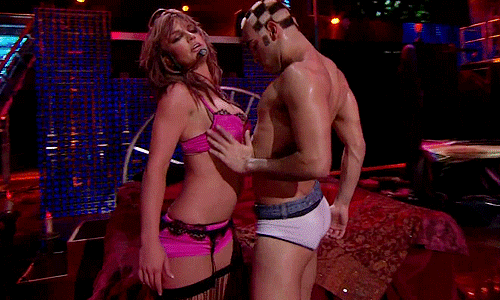 It was written by Stephen Lee, Steve Anderson and Lisa Greene and produced by Mark Taylor. Though the song never made it to single-status, she did perform the hell out of it, including at The Onyx Hotel Tour (2004), The M+M's Tour (2007), and The Circus Starring Britney Spears (2009) tour.
It's hot. It's just so effing hot to listen to. When I get bored, I place my dining room chairs in a circle and walk around them while the song's blasting. You know what I'm talking about.

What's YOUR favorite song off "In The Zone?"