Can you believe we're nearing a decade since Blackout's release?
'It's Britney, *****.'
We've said it countless times in the span of eight years. More times than we'd like to admit because really, it applies to any and everything related to Britney Spears.
She screams her ***** is hanging out? 'It's Britney, *****.'
Double ******* two Starbucks frappuccinos? 'It's Britney, *****.'
Remaining one of the best-selling female artists of all time? You got this one: 'It's Britney, *****.'
That mantra helped all of us 20-somethings get through our adolescence and journey into the scary place we label adulthood. When Blackout first dropped, we were rolling around in sweat pants from one dorm room to the other, wearing sunglasses inside because Britney did. But now, we're either pleasantly surprising ourselves by becoming the individual we sought out to be when dodging the animated "Break The Ice" music video, or rolling over and letting life pass us by. Either way, we've told ourselves at least once a day: "If Britney can get through 2007, we can get through today," and it's made us a better person because of it.
For me, Blackout is an album that's like Jane Eyre or Little Women or Fahrenheit 451 or whatever impressive literature scholars claim they find new meaning in after each read. Every listen inspires new thoughts, new feelings.
'Will I ever fall off the edge of my mind? What exactly defines an exceptional earner? 10 p.m. to 4 is a painfully long night. Yeah, smash on the radio bet I penned it.'
Perhaps the album connects with me because it dropped at a time when her affairs became unmanageable, yet she managed to share that blinding chaos through her craft. One of my biggest gripes with the record is when its theme is refuted claiming there's no parallel between the songs and her personal life. Blackout is the only record where she attempts to rid herself of the beauty bombshell persona she created for nearly a decade prior.
It's as if she screamed, '**** my blonde hair. **** the pretty album covers. **** having to explain myself. And **** that red catsuit, I'll play a stripper instead.'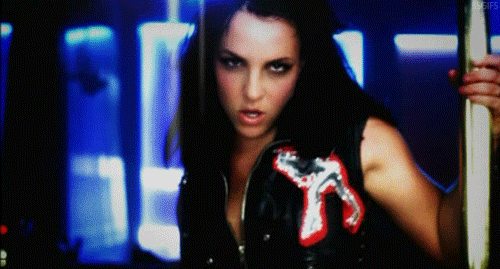 Britney was a solidified tabloid sensation and I didn't love that, but I did enjoy being 19-years-old and watching my pop idol take the reigns and release material, form a mini House of Blues tour and promote the way
she
wanted. It wasn't about branding, endorsements, money. It was about the
music
.
And Danja. It was very much about Danja.
Since then, Britney gave us Circus, Femme Fatale and Britney Jean. The latter was marketed to us as her most personal effort to date, but after the infamous Myah Marie leaks and messy Will.I.Am production, fans could feel the gap further between music we know she's capable of producing and whatever we were handed.
Today marks the 8th anniversary of when Blackout dropped (October 25, 2007), and music culture has entirely changed since: streaming dominates the market, physical album sales are increasingly less important and fanbases can stay connected to their faves year-round. Britney is currently in the midst of crafting her ninth studio album, and I'm fearful because "Pretty Girls" was a real attempt at making waves. I'm anxious to see a bit of rebellion in her music again. The no *****, bass heavy jams I can get lost in for an hour and forget about my troubles as a 20-something.
If there's anyone that can do it, it's Britney… *****.