Britney attended the People's Choice Awards Wednesday night!
Though she arrived somewhat late to the event (she skipped the pre-show red carpet), she did manage to make a splash inside. Before they announced the nominees for her category, cameras cut to our girl rocking out to "Baby Got Back," a song I hear she's secretly rehearsing for the Piece Of Me show.
Britney won Favorite Pop Artist, beating the likes of Justin Timberlake, Bruno Mars, Demi Lovato and Katy Perry (lost to Demi Lovato for Favorite Female Artist but meh no1 curr)!
Watch Britney accepting her award to a standing ovation:

"Wow! This is so cool! This is awesome. I was not expecting this, and it's because of all of you that I'm able to do what I love to do. I wanna thank my beautiful family, my boys at home, my management team and all of my fans: I love you dearly. Thank you."
We love you, too, Brit! However not buying the "I was not expecting this" bit, but you remain flawless.
Despite dancing her **** off in Vegas, Britney had a rather difficult time climbing up the stairs. Could be the shoes, dress, nerves, whatever, but it resulted in a new iconic Britney GIF: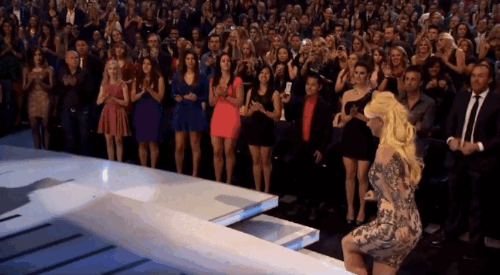 Britney headed backstage afterwards to snap some photos on the red carpet with her very first People's Choice Award in-hand.
Red carpet photos in XRAY:
She even took a moment to take pictures with presenter, model and mommy friend Heidi Klum.
Backstage photos in XRAY:
Britney Tweeted this photo before the show even ended, meaning girl was in and out within an hour and no ***** to give.
OMG! Thank you so much for choosing me as your Favorite Pop Artist! I love y'all so much! Xo! pic.twitter.com/Jixom6sPX0

— Britney Spears (@britneyspears) January 9, 2014
Congrats on your win, Britney! You deserve it.