Best of Britney: BreatheHeavy's Top 5 Favorite Moments From 2014
December 31, 2014
It's BreatheHeavy.com's favorite Britney moments in 2014, *****.
2014 was a pretty solid year for Britney Spears. Aside from that whole mess we'd like to refer to as Myah-gate, our living legend consistently worked ***** in the past 12 months, pocketing a cool mill per week from her Las Vegas residency. But it's not all about the coins! B treated us to some MTV Diary realness via some amazing Instagram posts. She also got herself some new man candy (after kicking her cheating boyfriend to the curb). Plus, she launched The Intimates women's wear line, showed off #datbangingbody on some mags and still found her balance as a nasty mommy ***** on the Piece Of Me stage.
Now with that said, it obviously wasn't the most active of years for Spears, but you can't deny that homegirl seems pretty damn happy. With less than a day left of the year, BreatheHeavy decided to round up some of our favorites B moments from the past 365 days and wish the original doll one hell of a 2015. So without further ado and in no particular order, here are our 5 favorite Britney moments of the year from Team BreatheHeavy.

Jordan
Britney Spears allowed me to be three feet from her without her bodyguard Edan tackling me, marking my favorite Britney moment in 2014.
Brit took a few months off from performing this year, but when she returned on August 15, she showed off her new long locks, million dollar smile and the harness she planned on using to punish me during the "Freakshow" segment at Piece of Me. Britney walked me like a dog, spanked my **** with a (hot Bugatti) whip and exclaimed my name to a crowd of Britney fans before autographing a shirt and sending me on my way. Sure, security warned me not do anything to get "publicity," but that certainly didn't take me out of the moment. It put a kibosh on my plans to throw glitter on her, but I was OK with that.
Even cooler was the Q&A we did together for BreatheHeavy where she ~opened up~ about her summer, her time off, her body and new perfume.
2014 was an epic year, and I look forward to interviewing Britney for BreatheHeavy over Starbucks frappuccinos and a zesty chicken bowl in 2015.

---
James
February 19, 2014 was basically the best day of my life. I saw Britney Spears be Britney Spears again and it was all too magical to put into words, but I'll try. I had been following every minuscule 15 second Instagram upload of Piece Of Me since the launch, so you can bet that I knew exactly which moments I was going film during the show. I knew she'd gush about how amazing the theater looked before "3." I knew she'd look for a lucky audience member for "Freakshow." What I didn't know was that she'd really dance till the world ends during that Thursday night's "Break The Ice" performance. Look at that knee bend. Look at her throw her body into the moves. Just take a freakin' look at this glorious 58-second video. Warning: Video may cause slight fatigue, failure to lift jaw from the floor and brief urination.
---
Aaron
My favourite Britney moment of 2014 is a series of moments. A series of cool, urban, personal, often baffling and always iconic moments all achieved on the Intimate by Britney Spears European Promotional Tour. Because firstly, when will your fave so effortlessly ignore the existence of her newest album and instead go on tour to promote underwear? Slay. But honestly, it was the reintroduction of
personalitney
that was so refreshing after years of
robotney
and
cuecardney
. Was it a little depressing that homegirl seemed more enthusiastic about ******* than, well, more or less any musical project since 2004? Frankly, yes. But if Brit's happy, I'm happy, and let's not forget that we are all truly blessed by the mere existence of moments like…

This: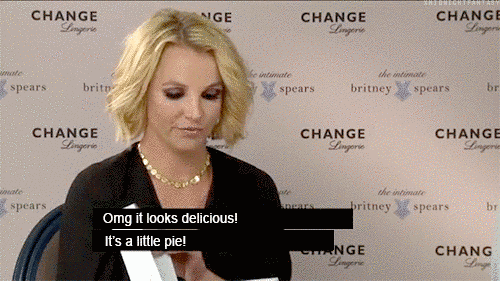 This: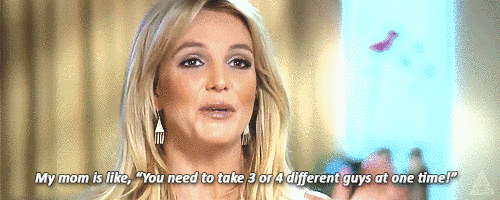 And especially this:

---
Ross
The most magical Britney Jean Spears event of 2014 can only be one thing for me. Sure, she slayed the Work ***** breakdown every single night, she looked the best she had in years during the bizarre-yet-iconic European tour for a lingerie line, and she even briefly became the Queen of Instagram during @badgalriri's hiatus, but nothing will compare to the breathtaking speech she gave mid-show on 31st of August. "I know everybody knows that my boyfriend cheated on me – boo! boo! boo! boo!" She called out
his
irrelevant cheating *** and made everybody in the room wish they could take her on the first date she ever so sarcastically asked for. Somebody cast her in
Will & Grace 
2.0, already. Queen! SLAY! Werk, etc, etc. This will go down as (arguably) the most iconic moment of the Vegas residency.
---
Douglas
The time Britney didn't know she had the record for highest first week sales of an album, with "Oops… I Did It Again."
It took Taylor Swift almost breaking her 14 year record for Britney to realize that she even had a record to begin with. The Brit Army was up in arms back in September when "1989" debuted because it was thought she'd steal our Queen's thunder. Extra caught up with Brit Brit and when asked about how it felt to still hold the record after 14 years, she responded:
"I had no idea that that was even the case, so that's really cool. That's pretty phenomenal. I'll just have to toot my own horn. That's pretty cool."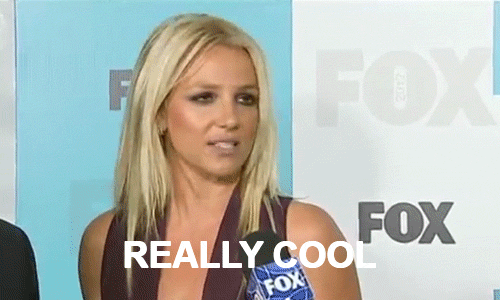 It is pretty cool indeed, Britney! She is seriously too adorable to handle. The fact that she remains humble after being a living legend you can look, but don't touch (or make her wait) for 14 years is nothing short of endearing. She doesn't take herself too seriously, like other divas cough Mariah Carey cough sneeze Madonna sneeze, so frivolous matters like holding epic records, remaining Empress of Women's Health, and Goodwill Ambassador of Starbucks do not seem important to her. There is no shade under her canopy, and I live.
---
What is YOUR favorite Britney moment of the year? Were you floored with her ferocious IG dog walk? Did you just cry yourself to sleep reading that leaked plot to "Perfume"? Share your moment in Exhale!