End of an era.
The reality show that launched some of today's biggest stars will finish after 15 seasons.
Kelly Clarkson, Jennifer Hudson, Adam Lambert, Carrie Underwood…
If it weren't for American Idol, we might never have heard these names or voices.
The massive reality talent quest is finally coming to an end next January, after thirteen years on air.
E! Online says continually poor ratings are the reason the show is being ditched:
The cancellation news doesn't really come as much of a surprise, given that ratings have been on a downward spiral for the past few years, despite some significant changes to the series, including a new showrunner. None of it really worked. Idol's audience has continued to hemorrhage and has been hovering around less than 9 million viewers, a far cry from its heyday when 38 million people tuned in to watch the season two finale withClay Aiken and Ruben Studdard.
In recent years, Idol has failed to create the same mainstream hype it once did, after similar shows – X Factor in particular – cropped up and, in some cases, spawned much more successful acts than Idol, as well as reigning in more celebrity judges and guests.
Adam Lambert said of the cancellation:
"They had a great run. And thank you, Idol, because I wouldn't be here without you."
Let's look back at some classic Idol memories, shall we?
Idol began in the UK as Pop Idol, with Simon Cowell in the judges seat:
One of the main reasons audiences initially tuned in was to see tone deaf wannabes bombing during auditions, and facing the sarcastic wrath of Mr Cowell:
My personal fave is the self proclaimed "most exciting entertainer on planet earth" – Eccentric:
Of course, not all the auditions were bad:
Then, there was the chaotic season where Nicki Minaj and Mariah Carey were celebrity judges:
At the peak of Idol hype, around 2004, a special international competition called World Idol took place, involving all the recent winners of Idol from different countries, with Norway's Kurt Nilsen ultimately winning. What he won exactly is still unclear.
Watch this vintage awkwardness play out:
Of course, who could forget the most iconic Idol-inspired film of all time?
But the main reason Idol exists, and the one aspect we shouldn't overlook, is the amazing live performances the show has brought us over the years, from some truly outstanding talent:
…to name a few.
The final season of Idol will have a reduced amount of episodes, and celebrity judges Jennifer Lopez, Harry Connick Jr and Keith Urban will all return one last time.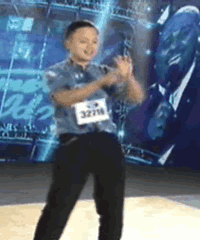 What are YOUR favorite Idol moments?