The pretty motherf*cker is back!
The pretty motherf*cker is back!
After taking over rap music in 2013, A$AP Rocky is set to release the follow up to his #1 debut Long.Live.A$AP later this year.
The 26-year-old rapper says the new album won't feature songs like his breakthrough hits F*ckin' Problems and Wild For The Night.
"On [that] album I wanted to prove to that people I could have mainstream commercial success, so that's why I made songs like 'Wild For The Night' and 'F—kin' Problems', [but now] I hate those f–king songs…[during recording] we were really drunk and we were wylin', but what about on the day that you're feeling sober? You don't wanna hear 'Wild For The Night' but you still gotta perform that sh–t.
Rocky, who once starred in a Lana Del Rey video and had Rihanna star in one of his, says his new music will instead showcase his more serious, artistic side.
"I wanna make songs that reflect on me every day, because sometimes I'm in the mood to party, sometimes I'm in the mood to work…People know me for being the guy talking about, 'I got bad ******* I got a f–king problem.' And in all reality, that's fun. I was only 23 at the tim e— that was cute, fine. But right now… when you think about me, as far as my art goes, I want you to remember something a little more honorable. That's all."
A$AP Rocky released a promo single titled Multiply late last year and the track was an online hit. It will now be considered the lead single for the new album. The song hinted at Rocky's need for progression, as he lyrically dissed designer labels he previously associated with, causing some tension.
The rapper has had a less than ideal past 12 months. His relationship with model Chanel Iman dissolved and the mastermind behind the A$AP empire, A$AP Yams, passed away at just 26 years of age.
On his breakup with Iman:
"That's my best friend…Me and Chanel broke up in June and I got really depressed, because I knew that she deserves better than me,". And that's the truth. Everybody knows it. I don't wanna be the guy to Lauryn Hill her — if you know what I'm saying. I love her so much that I would rather not be with her, than hurt her."
On A$AP Yams untimely death:
"He always had a struggle with drugs…that was his thing…[on the night of Yam's death] I was scared. I was wilding on everybody, like, 'Who let him do drugs?,' even though you can't blame nobody"
Rocky says after the tumultuous year he's had, the new album – which features FKA Twigs and Lykke Li – will be much more introspective:
"People really don't know the other side of me. The deeper side, the more musical side, the more intellectual side. When I first came on the scene it was more of this trendy, bourgeois, pizazz attitude. That's still me but at the end of the day I think that kind of overshadowed the whole purpose of me doing what I do. I'm an incredibly diverse artist, I'm a universal artist. At least that's how I see it."
It seems Rocky has definitely found his drive and motivation again, stating in regards to the album title:
"I'm claiming ownership of my legacy. Look at it: At.Long.Last.ASAP. A-L-L-A. Like slang for 'Allah.' It's the return of the god MC. I'm named after Rakim, and I'm finally facing what it means: I was born to do this ****. And I hope I get to do it for a very long time."
I'm a big A$AP Mob fan, I can't wait to hear what's in store!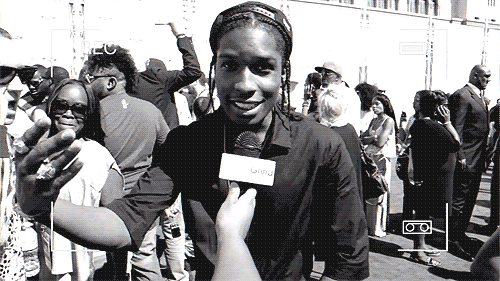 Are YOU excited to hear more from A$AP Rocky?