Little Mix performed their catchy song on CBBC Friday Download.
Little Mix nailed the girl group thing in their latest performance of "Black Magic."
We resisted liking Little Mix after they threw a little shade at Britney Spears re: "Pretty Girls," but all is forgiven and it's satisfying watching them grow as performers thanks to their recent hit, "Black Magic." The four-some polished their dazed choreography and served face at a new appearance on CBBC Friday Download.

Here's five moments from their performance we wanted to capture forever:
The Illuminati reference:

This kid singing with a banana: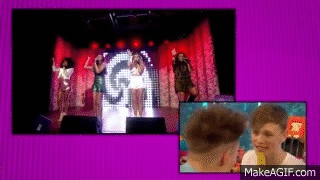 Flawless bopping:

Zoning out:

And the reckless stomping:

The girls also chatted a bit afterwards, but when one of the teens suggests Jesy copies her boyfriend Jake Roche's style, the rest goes downhill (wink).