Corey Feldman gets support from pop stars Pink and Kesha following Internet criticism regarding his head-tilting performance on the Today show.
On Friday (Sep. 16), Feldman's band, Corey's Angels, performed a new single titled "Go 4 It" off their fifth album Angelic 2 the Core. It consisted of wacky dance moves and a bizarre interpretation of "good versus evil, heaven versus hell," a prolific theme incorporated throughout the LP.
If anyone knows what it's like to battle anonymous Internet trolls, it's Pink and Kesha. They're offering words of wisdom to Feldman, who sobbed in a now-deleted vlog via Facebook that he couldn't even leave the house because of how cruel the reaction was.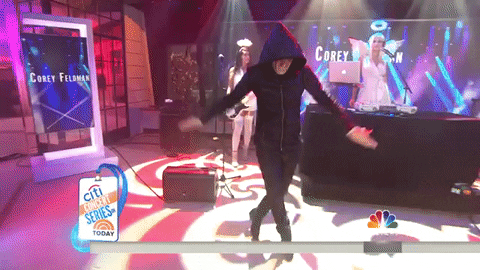 "We just wanted to tell everybody that, like, it's been really painful," Feldman said. "We put ourselves out there and we did the best that we could. And, like, I've never had such mean things said about me. Like constantly."
He added: "All we can say is that we tried really hard," he said. "Because we love our fans and we just wanted to give them the best show that we could. But we don't deserve ... these things that are said about us are awful."
Feldman feels the backlash was unjust.
"It was a song, okay? It wasn't that weird," he said, adding, "I'm sorry if it's not good enough for you, but you don't have to beat us up. I just want to say that, like, why is it okay to, like, publicly shame us? ... I don't understand ... It's, like, not PC to, like, say somebody is fat or somebody is white or somebody is black or somebody is yellow or green or if they have a short leg or if they have a missing finger. Like we can't talk about these things. But it's okay to bash Corey Feldman and the Angels."
"We can't get out of bed right now," he said. "We're petrified to even go out ... And I'm sorry, but we just wanted the world to know, like, we're really freaked out over this and it's really not fair."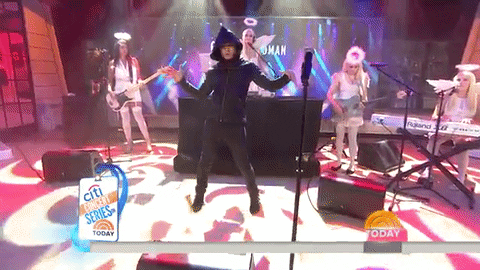 Pink and Kesha couldn't stomach to see
The Lost Boys
actor so upset. They threw in their two cents.
"Well I love ya @Corey_Feldman and I know how much it takes to get up there and do your thing," Pink wrote on Twitter. "Keep your head up and know that you're loved."

Well I love ya @Corey_Feldman and I know how much it takes to get up there and do your thing. Keep your head up and know that you're loved❤️

— P!nk (@Pink) September 18, 2016
Kesha was even more outraged. "This just broke my heart. I wanna reach out to Corey Feldmen in a kind way and say that you have to not read that shit," she said. "People can be so horrible and mean online and it can BREAK you. do you, fuck everyone. those people have never performed on the today show. it's easy to sit at a computer and talk shit. it's not easy to perform in front of millions. keep your head up. normal is BORING."
Revisit the performance below:
Thoughts? Let us know in Exhale.
And while you're at it... leave a comment and follow us on Facebook, Twitter & Instagram.