Lady Gaga shall bestow upon us a unisex fragrance that's titled "Eau de Gaga" and is a "sparkling water, lime, leather" base that smells "very clean" and "expensive."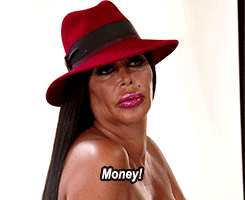 Mother Monster debuted a new photo by Steven Klein today advertising the "extremely sexy and arousing [scent] for all genders." There's shirtless men and Gaga does that dress major justice, so I approve.
EAU DE GAGA coming this season. Artwork By Steven Klein @skstudly pic.twitter.com/SLtY2TdNwo

— Lady Gaga (@ladygaga) August 11, 2014
The only flaw I'm seeing is the tagline:
"For the adventurous woman and the man who loves her."
Gaga's the biggest pop star supporting equal rights! Little Monsters don't want to hear about straight people stuff. She describes the bottle as "timeless, elegant, luxurious bottle, something that would last forever." Unless you use it all up, then buy another.