Earlier this week, Duff shared shed some light on what she's cooking up in the studio from the depths of Stockholm, Sweden, and it sort of sounds already better than "Chasing The Sun" and "All About You." Over an ambient and moody beat, Duff's voice is smooth as butter as she sings exactly three words: "like everybody else." Yup, that's all we're getting.
Sure, it's only 5 seconds long, but Hilary is working with Max Martin and we seriously can't imagine the hitmaker not being able to help Hilary whip up some magic. As much as I love an occasional walk down memory lane with Lizzie, Gordo and Miranda, we need music that doesn't sound like leftovers from the The Lizzie McGuire Movie. #JustSaying
We're waiting, Hilary. We're waiting.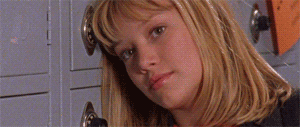 Are you willing to give Hilary a second chance? Sound off in Exhale.