Definitely this shitfest. Who the f**k puts Britney Spears on stage in ripped cut off shorts WITH booties? She's short as f**k, she doesn't need that emphasized!! The top is okay but really, the whole outfit looks like something she'd have worn in 2004 when she was redneckin' with Kevin.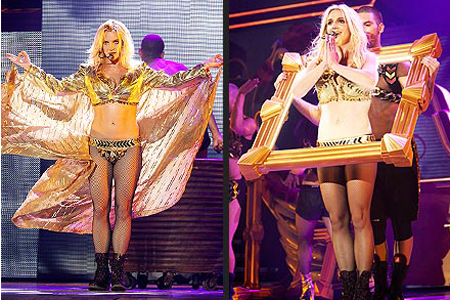 The top half is good and the cape is awesome. But again, look how short her legs look! The shoes are freaking ugly as hell and the bottom part looked ill fitted. And I don't know why she needed tights, much less dark coloured tights. Almost makes her legs look like they have dirt on them O_O
http://www.freewebs....ledbhgfvjgv.bmp
The colour is too jarring and the corset thing looks uncomfortable. The pants are cut too wide, making her hips look very large.