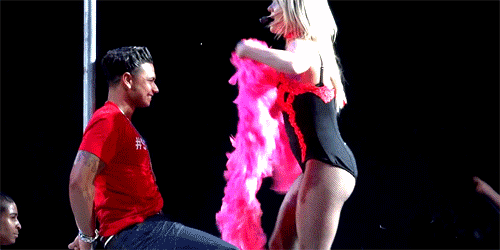 Britney and DJ Pauly D are besties and chat every day about the best tanning salons, hair product and the wonders of life. Or, at least every once in awhile. The Jersey Shore star turned resident Vegas DJ tells
In Touch
the two communicate "through text every couple of weeks."
Pauly actually talks to her about "music and what she's been up to."
"She's all about her kids, music and her next upcoming project in Las Vegas," he continued.
Pauly DJs at The Palms and is excited to see more of her when she rolls into town for her Las Vegas residency.
"[I haven't hung out with her] since we've been on tour, but she's moving to Vegas now...so we'll probably be together a lot."
"I have been playing [Britney's] music my whole life, she now knows I exist," he said. "I did her tour, she gave me the lap dance. That was the best day of my life. It was amazing."